Natural Indigo dye has a unique color that cannot be matched by synthetic means. While the indigo molecule itself has been created in a lab, there is more than just indigo in the natural indigo dye. Indian Indigo has a predominance of pure indigo molecules, with a sub dominance of other shades of indigo. These other shades are known as indigo red, indigo brown, and even indigo green, and their production depends on the extraction method of the indigo dye and what precursor is in predominance in the plants used for the extraction.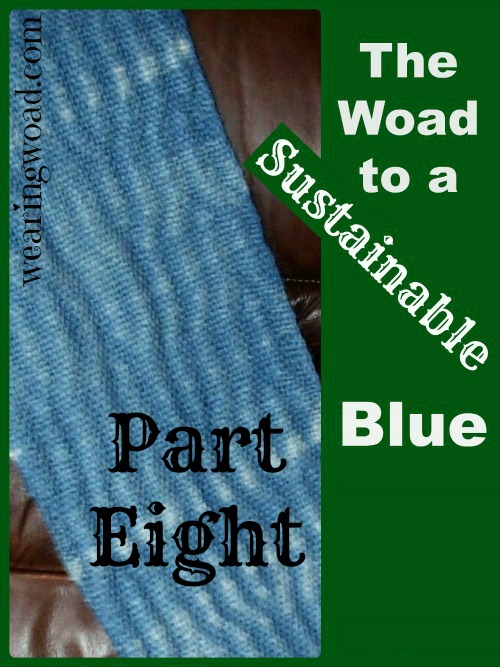 This is part Eight in The Woad to a Sustainable Blue Series.
Part One: Finding Sustainability in an Unsustainable World.
Part Two Why Does Woad Matter.
Part Three Advanced Dye Uses for The Woad Plant.
Part Four The Modern View of Woad.
Part Five Woad History from Ancient Egypt to Modern Times.
Part Six My Woad Story.
Part Seven Using Woad Dyed Material.
Indigo Dye Molecule Break Down:
No indigo bearing plant contains the actual indigo molecule. Instead, whether it is an Isatis indigotica plant, or an Isatis tinctoria plant, it contains precursors to the indigo molecule. Different plant species have different predominating precursors, but the same three precursors are found in all indigo plants.
These precursors are Isatin A, Isatin B, and Indican. The Indian indigo plants have a predominance of indican, which is the most stable of the indigo precursors. This precursor will remain stable after the plant is harvested, right through fermentation and the other traditional extraction processes. It is in the indican in woad that was originally preserved in the traditional woad-ball preparation.
However, in woad the indican is actually the smallest precursor present. This is why the traditional woad-ball preparation gave mostly pale blues, and took a huge amount of work to get the darker shades. The indigo precursors in woad that are most abundant are Isatin A and Isatin B, both highly volatile precursors that begin degrading the second the plant is harvested.
In indigo extraction, these precursors are pulled out of the leaves and suspended in the extraction liquid. After the plant matter is removed, the liquid is oxidized to enable the precursors to bond and combine. The precursors combine into an Indoxyl molecule, two of which must then combine to form one Indigo molecule. Depending on the extraction conditions, sometimes other precursor molecules will bond to the Indoxyl molecule creating, instead of indigo, one of its constituent colours like Indigo Red, Indigo Green, and Indigo Brown. In the natural extraction process, it is these extra constituent colors that give natural indigo a richness and depth of shade that is completely unique.
Woad Indigo's Unique Shades of Color
While all natural indigo is unique in its color and tone, woad has a special uniqueness. While the quantity of indigo depends largely on the speed of a woad indigo extraction, the shades of color depend on the conditions within the extraction vat itself. A bit too warm, and the blue shifts, pH a bit low or high and the blue will change. You can end up with woad indigo in a very purple range, a very green range, and a very blue range all thanks to the conditions in your extraction vat. Even with the utmost care and deliberation to make each extraction the same, some variation will happen.
Due to woad's high levels of Isatin A and Isatin B compared to the Indican, when the indigo begins to form the other indigo colors will also form. In the experiments I did, I found that the appearance of the blue indicated that it was mostly the Indigo-Red that was forming. This lovely color forming propensity just happens to be why you can get more than blue from the woad vat.
Comparison to Indian Indigo
Indian Indigo gives a dark blue, with just slight hints of purple and green iridescence. Whether you buy this indigo one year, or in five years, the blues given will be nearly identical. This is due to the consistency of the extraction method, and the plant's own consistency in its molecular precursor content.
Woad Indigo has a far more unique and variable natural dye color. I found that woad blue was brighter and warmer than that from Indian Indigo. One extraction may give a very purple tone, while another may have a light, bright blue tone, and still another may have a green overtone. The only way to make Woad indigo a consistent tone is to combine the extracts (in powder form) from several extractions and blend them before use. In this case, that season's dye will be the same tones, but the next years color could well be different.
There is one other difference between woad indigo and Indian indigo, and that is the color fastness. Natural Indigo dye can usually be recognized by its indigo rub. When you rub a fabric, or yarn, that is dyed with natural Indian indigo on your hands, a faint hint of the blue dye molecules will rub off on your hand. This is called indigo bloom.
Woad indigo, however, does not have the same rub propensity as its more southern cousins. While a very dark woad indigo blue may rub slightly when the yarn is being used, it will usually not rub in a garment. However, a same-tone Indian Indigo piece would rub both when being worked with, and when being worn.
Before the advent of synthetic dyes, the blue indigo dyers would add woad balls to their Indian indigo fermentation vats to improve the color fastness and help the fermentation, even when they no longer knew how to dye blue with just the woad balls.
While the different tonality in woad indigo is easily accounted for by the dominance of the other indigo precursors, the difference in fastness is not so easily accounted for. Unless, indeed, the different indigo molecules, the red, green, and brown, combine with the indigo blue to make a firmer physical bond than the indigo would have on its own.
Whether you think of woad indigo as the bright, brilliant blue of BraveHeart's William Wallace, or the deeper pure indigo tones, there is one thing for certain. Woad is a unique and spectacular blue. It is unique in its color, and also unique in its unpredictability and fascination. Few dyes can claim to have been resurrected from near knowledge-extinction, unless indeed you count Shellfish Purple where the knowledge went extinct from a lack of dye material.
Of course, all this talk on woad is useless if the growing practices are unknown. Though, considering how hardy the woad plant is, that will hardly be a deterrent. The plant is such that, if you dropped it on a scrap of soil exposed between concrete slabs, it would manage to grow somehow.
Back To You:
If you have every dyed with woad, what did you think of the color? Have you ever compared woad blue to Indian indigo blue or synthetic indigo, what did you think of the colors?
Leave a comment, I love to hear from you!