Today is the shortest day of the year, and it's socked in snowing here. While the darkness and dimness is a challenge, even with the white coating on the ground, it is this time of year that makes my thoughts turn to spring. And spring means it's time for natural dye gardens!
Natural dye gardens an include yellow natural dyes, blue natural dyes, and even red natural dyes. But, whether you have an established natural dye garden, or are just thinking of adding a few natural dye plants to your existing garden, or even just want to grow a few in some pots, the first step is evaluation.
Evaluating for your Natural Dye Garden:
If you have an existing garden, hopefully you have some type of garden map sketched out. A garden map should show the layout of your garden beds, and have notes of what was planted there in previous seasons. A three to five year rotational planting plan helps keep nematodes and other munching critters from building up in your soil, as would happen if you consistently planted the same crop on one stretch of ground (like potatoes for instance).
If you are just starting gardening, evaluate how much land you have and the amount of sun/shade each area is expected to receive. If you are planning a container garden, think of the size of the containers and how often you might need to move them. It is better to have several small and easily shifted containers, than one or two huge containers that cannot be effectively moved.
If you are in the research stage on natural dye plants, an awesome resource is "A Dyer's Garden" with detail color samples, techniques, and growing information for 18 separate dye plants.
Remember to Record:
Keep a yearly garden notebook, and note where things are planted and how they perform. This will help in later garden planning, and in knowing what plants will thrive in your particular microclimate. You may think you will remember, and you may for a year or two. But after two years you are likely to forget what was planted where and whether or not it did well.
I have mentioned before about the importance of keeping a natural dye journal, and a garden notebook is equally important. For gardening, I prefer an inexpensive spiral bound notebook that I can easily carry out to the garden to make notes. It is also useful for keeping track of seed purchases, germination tests, and mid-year "I should have planted X" thoughts.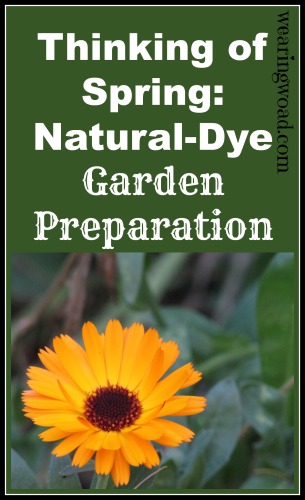 Note: Seed is usually viable for more than one year. So, remember to save your left-over seed in a cool, dark, and dry location for use next year. Even corn is viable for more than one year. When seed companies prepare for a new gardening season, they do is a germination test and change their packaging to reflect the germination percentage. Just because you get a new seed package does not mean it is last year's seed. As long as there is over a 50% germination result in a germination test, you can plant the seeds and expect a fairly good harvest.
Plan for Rotation:
Rotational planting is healthiest for your soil. A few basics for rotational gardening include planting heavy feeding crops once, a year or so of light feeding crops, and a year of nitrogen fixing crops before the next heavy feeding crop. Some examples of light feeding crops include your spring greens, while nitrogen fixers like peas and beans are always good options. Rotating food crops with natural dye flowers, such as marigolds, or herbal medicine plants like calendula, is also good garden usage.
Many natural dye plants will either self-seed, are biannual, or are perennials. Each type of plant's growing preferences will need to be taken into account. For example, if you start a bed of madder, the roots will not be ready to harvest for five years. If you want a continual supply of madder, you'd want to start five small plots and harvest them on a five-year rotational basis starting a new plot every year as you harvest an old one.
Companion Planting:
Even if you have plenty of space, and especially if you have limited space, companion planting can help both your food plants, and your natural dye plants. Plants like marigolds have insect, and nematode, repelling benefits for your food plants, and a few scattered among the other plants in the garden will provide you with plenty of flowers for your natural dye efforts.
Flowers are the most common for companion planting, however, you could even drop a few woad plants, or other natural dye plants, in among berry bushes or shrubs (that have deep root systems) to take advantage of the space.
Even if you are planting in pots, you can gain some companion planting benefit by mixing pots of herbs and flowers among the pots containing veggies. In pots, you do not need to worry as much about rotational planting, as you change the soil. Note: Pots will freeze easily so it may be difficult to over-winter perennials outdoors, in pots, unless you insulate the base of the pot before winter freezes solid.
Be Creative:
Whether you live in the city or country, whether rural or urban, you can use natural dye plants to your advantage. Many natural dye flowers are bright and brilliant, and would provide a great deal of decorative beauty in planters and pots, or planted alongside paths or roadways where you may not want to plant food crops. Coreopsis, Marigolds, Goldenrod, and many other natural dye yellows are especially showy and good for this purpose.
Think twice about the weeds too. Many weeds are also natural dyes, or medicinal plants. St. John's Wort is an example. Considered an invasive species in this area, it is an exceptional herb and can also be used for natural dye. Though it is not one I would recommend using for dye. If your garden is plagued with cleavers, a square stemmed and slightly prickly plant, dig it up and save the roots because cleavers is from the madder family. Any square stemmed plant is likely to be from the madder family, so remember to check the roots for dye if you find some invading your garden.
Back To You:
Did you have any natural dye gardening successes last year? What are some of your natural dye garden plans for this year? Leave a comment, I enjoy hearing from you!