This time of year offers the perfect excuse to bake cookies, sometimes for quick and easy DIY gifts, sometimes to be festive, and sometimes because chocolate is an excuse for anything (at least for me). I had been thinking of sewing something, but looking at the date and my energy levels, I decided baking would be fun. And besides, the temperature is in the negative register, so it's a good time to have the oven going.
I found an interesting looking chocolate shortbread recipe, and decided to adapt it more to what I had on hand. While the cookies are not quite as flakey as shortbread, they did turn out delicious (in fact, they barely made it to the picture!). As I was looking for a strong chocolate cookie, I was quite happy with how it turned out. It is like dark chocolate, but shortbread too. Yum!
If you want to make your own Christmas mitten cookies, you can find the mitten cookie cutter here. There are also some fun and fascinating stocking and hat cookie cutters available.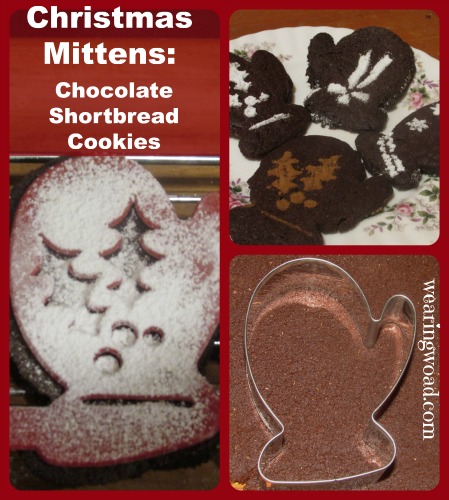 Prep time took under an hour, and baking each sheet of cookies only took 12-14 minutes apiece.
Cookie Baking Equipment:
Mixer or mixing bowl
Flexible spatula
1 cup measuring cup
Teaspoon
Rolling Pin
Flat Baking Sheet (I call it a Cookie sheet)
For Cookie Decoration: a fine sieve/tea strainer and a spare spoon or pipping bag. Use icing sugar, melted chocolate, or cinnamon for decorating.
Chocolate Shortbread Cookie Ingredients:
3/4 cup butter (I used salted butter, if you use unsalted butter you will need to add salt to the recipe)
1 cup sugar (I used white, you can also use brown or use a mix of sugars)
1 tsp. vanilla
1 1/2 cup flour – I used home ground whole wheat, you can also use cookie flour, or all-purpose flour. You will need a bit of extra flour to keep the dough from sticking when it's rolled out.
1/2 cup cocoa powder unsweetened. If you wanted to use melted chocolate, an ounce of melted chocolate is equal to three tablespoons cocoa and a tablespoon of butter. To fully replace the cocoa, substitute 2 ounces of dark melted chocolate for 2 tablespoons butter and all cocoa powder. Using melted chocolate will increase the amount of flour required by an extra half cup (1/2 cup flour).
Creating Your Chocolate Shortbread Cookies:
Start by creaming together room-temperature butter, sugar, and vanilla. Scrap down the sides of the bowl and then mix in the cocoa. You may need to scrap down the sides several times during mixing to make sure that the cocoa, and then the flour, all gets blended in.
Once the cocoa is thoroughly blended into the mixture, add the flour and pulse till mixed. You can also fold in the flour using the spatula if you find that your mixer is not cooperating.
Once the flour is fully blended in, fold and work the dough into a fairly smooth ball. Then chill for a bit if you find it is too soft (if it's too soft it sticks to everything). If it seems really soft after chilling, you can also add more flour, up to half a cup more. You are also likely to work in another quarter cup of flour through the rolling process.
Once the dough feels workable, roll it out on a floured surface. Start the rolling by beating the dough (conditioning it) into a rectangle of even thickness. Some recommend using the rolling pin to beat the dough with. However I would only recommend this if your rolling pin is one solid piece of wood, otherwise use your hands and a bit of extra flour (as if you're thumping someone's back with the side of your hand).
After conditioning and doing the initial flattening, roll the cookie dough out until it is between a quarter and a third of an inch thick.
Flour the cutting edge of your cookie cutter, and start cutting. I prefer working from the outside toward the center with my cookie cutter. Pause every now and then to transfer your cut cookies to a well-greased cookie sheet. Alternatively you can cover the cookie sheet with parchment paper.
Cookie Cutter Tip: If you slightly pinch in the cookie cutter when you have just finished cutting out a cookie, you can usually lift the cut cookie dough onto the tray with the cutter (without using a spatula or flipper).
To help the cookies retain their shape in the oven, you can now chill the cut cookies while the oven preheats. Most cookies are recommended to bake at 350F, for 12-14 minutes.
I baked mine at 360F for 12-13 minutes per tray, and ended up with a slightly more crunchy texture, and a bit more of a brown-sugar/caramel flavour hidden under the chocolate. Yum!
Baking Cookies Note: baking time is partially relevant to elevation. Check cookies frequently when close to being done.
After baking, let cookies firm on the baking sheet, and then transfer to a cooling rack while still warm. If your cookies fully cool on the baking sheet, they may stick (unless you used parchment paper). If your cookies stick, slip the tray back into the warm oven for a minute or two, the cookies should naturally unstick once they are a little warm.
Decorating Your Christmas Mittens Chocolate Shortbread Cookies:
This is the fun part, and what made my cookies look like Christmas mittens. My cookie cutter came with three stencils through which I applied icing sugar, and cinnamon to decorate the cookie. If you don't have something similar, you can just sprinkle icing sugar through a sieve onto the cookies.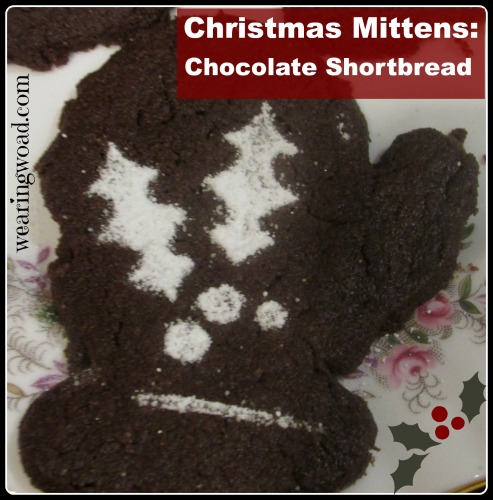 You can also drizzle the shortbread cookies with melted white chocolate, so that the white is a contrast with the dark chocolate of the cookie itself. If you wanted to get fancy, you could always drizzle the cookies with melted white, milk, and dark chocolate, or dip them in chocolate and drizzle a contrast on the dipped section. You can never have too much chocolate, right?
To use a cookie stencil, place the stencil flat on the cookie. Then, holding your sieve with icing sugar over the cookie, tap or otherwise disturb the sugar so that it falls through. Depending on how lumpy your icing sugar is, you may need to use the spoon to crush lumps to get enough falling through. Once satisfied with how much is in the stencil, you can lift it up and place it on the next cookie.
Icing sugar, via stencils, is best applied while the cookies are still slightly warm. This causes the lower layer of icing sugar to partially melt and bond to the cookie, so that the decoration stays on.
Once your cookies are decorated, let them finish cooling and then move to cookie tins or cellophane bags for gift giving or saving for later. Enjoy your Christmas Mittens with coffee, peppermint tea, or hot chocolate. But watch out, if your family members like chocolate as much as mine do, the cookies are too good to hang around for long.
Back To You:
What baking do you like to do at this time of year? Do you have any seasonal favorites, or traditional treats that only come out in December?
Leave a comment! And, if you try this recipe, let me know how it turns out. I love hearing from you.