While woad is often associated with blue and indigo, those are not the only colors achievable from the woad plant. An entire rainbow of colors can be dyed using just the woad plant, with the happy uniqueness that all woad colors will always look complementary to other woad colors, and are colorfast.
Most of my dye experiments have used woad on either wool or silk, both protein fibers. Any color you achieve on wool or silk can also be achieved on cotton or linen fibers, however, plant fibers do not take the dye as brilliantly as protein fibers.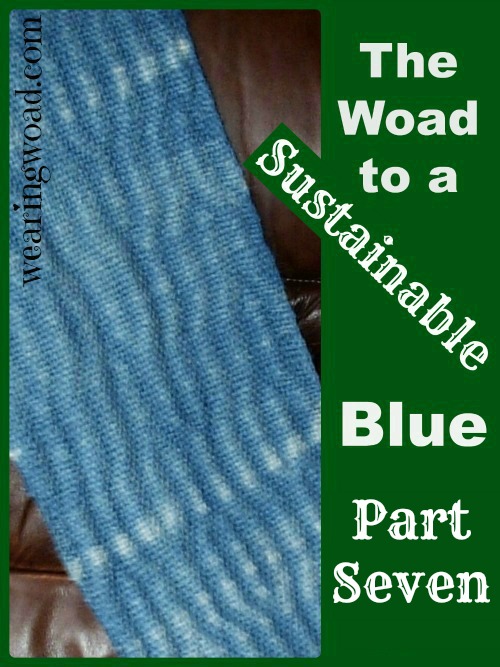 This is part seven in the Woad to a Sustainable Blue series. You can find the other parts as follows: Part Six, Part Five, Part Four, Part Three, Part Two, and Part One. All parts relate to woad and the quest for sustainable natural dye colors, particularly blue. After all, the sustainability of transporting natural indigo from India could be up to some vigorous debate…
Woad Indigo:
Woad indigo has a very unique tendency. Even the darkest woad blues have barely any indigo rub. The lighter tones of woad, even the darkest queen's blue, will not have any visible indigo rub. This means that something dyed with woad indigo can be freely used in environments where it will be exposed to friction, such as a sweater or other garment, without fear of it temporarily impacting skin color or other clothing color.
I once had a sweater that I over-dyed with Indian Indigo. I could barely wear it. If I wore it over a short-sleeved garment, my arms turned blue. And, no matter what I wore it with, my neck would always be blue-ish from the indigo rub. Now, Indigo will not adhere to any fabric permanently if it is not reduced. So, even with the worst possible indigo rub your clothing won't be impacted. Though, your skin may be temporarily colored, even as it would be if you wore a new pair of blue jeans without washing them first.
Woad Colors:
The other woad colors, the yellow, orange, peach, and purple tones, are also all light fast, and wash fast. Now, normally placing a yellow next to a purple or peach would not look that great. However, with woad colors, you can do exactly that and they will still look complementary.
Woad Dyeing and Wool
I prefer using woad with wool, mostly because it is easy to get good colors and wool has a wide variety of uses. Also, since I've also raised sheep, wool ends up being very accessible for dye experiment. Of course, when one raises one's own fiber source, it is also less of a risk if the dye does not turn out.
Woad gives the best tones yarn that blends fine fibers, with slightly more lustrous fibers. For example, a blend of fine Merino with a bit of finer Romney or Cotswold fibers will take the dye very well. If possible, mohair blended with wool enables an even greater dye take-up and even more brilliant colors, with that added bit of mohair luster, loft, and softness.
Wool has one other benefit when dyeing with woad. You can drop clean fleece into the dye vat to take up the last vestiges of usable color, and fully exhaust the vat. These pale fleece tones can then be carded and spun, carded and felted, or over-dyed again to get a darker and more unique color. It's always more fun to work with dyed wool than plain white too!
Further, if you do not raise sheep yourself, there are sheep breeders and farmers in most areas in Canada and the USA. So if you don't have your own flock, you can always buy fleece and support your local farms. If you're able, pitching in with the shearing (and letting the farmer know that you want to buy a fleece or two) means you'll be able to choose your own fleece, fresh off the sheep's back.
Woad Dyeing and Silk
If you want the most brilliant colors possible from any dye plant, use silk. Silk is an amazing protein fiber, with high luster and a beautiful dye pickup. You can blend silk with wool to increase the strength, color tone, and luster of your yarn. Or you can use silk roving, weaving yarn, or fabric, to get the best colors out of your dye vat.
I used silk fabric to do several small dye experiments. The fine fabric makes it easy to put into displays, and to show off the colors achieved from your natural dyes. If you are doing samples, or very small batches of any natural dye, I would recommend using silk as your test medium as it is much easier to fit into your sample books, at least compared to worsted weight wool yarn.
One thing to remember, if dyeing a large amount of silk, the silk will pick up more dye than a comparable weight of wool. Thus, you need more dye material per weight of fiber with silk, as compared to with wool. At the same time, the darkest color achieved on silk will always be darker and more brilliant than the darkest hue you can achieve on wool. It is these varying dye tendencies that make me like blends, where you can get the best properties of the blended fibers working together in your dye vat.
Woad dyeing and Linen or Cotton
Plant fibers are a royal pain from the dye perspective. Baste and Cellulous fibers take dyes grudgingly, and the darkest shade achievable on linen or cotton will always be several shades lighter than that achieved on wool. Plant fibers also release dyes easier than protein fibers, even when all proper mordant procedures are followed. This means that a moderately colorfast dye on wool, may well be a barely colorfast dye on cotton.
Indigo is about the only exception to this rule. Due to Indigo's bonding properties, forming a physical bond, if indigo is dyed properly with linen or cotton, it's fastness will equal that of similarly dyed wool. However, I cannot speak for the other colors achievable from the woad plant, as hitherto I have only used them on wool and some on silk.
From working with Indian indigo on linen and cotton, I have found that the rub is equal to that on wool. However, the maximum color achieved on cotton and linen (with 5 vattings), is lighter than that achieved on wool. So, there is still some fiber related tendencies that impact the adherence of the physical indigo bond. In the wash-fast and light-fast tests I did, using both wool and cotton, I found them to be as expected for a physically bonded dye, with little difference between the color retention abilities of wool and cotton.
Designing With Woad
Now, finally, we get to my favorite topic related to woad, the design and project possibilities within the numerous colors of the woad plant. Nearly any natural dye surface design technique can work with the woad plant.
One of my first woad-dyed projects was a Shibori scarf using loom controlled techniques. The scarf was then dyed with my natural woad indigo. The results of this project remain one of my favorite scarfs. And, despite it having over six years of use, the indigo is as brilliant as the day it was first dyed. This amazing fastness is one of the main reasons I love working with woad, and woad indigo.
Another project that I have done was using tapestry weaving to highlight how the different woad colors worked in harmony together. For this project, I started by sketching the design on paper, and then warping up a rigid heddle loom. I pinned the "cartoon" under the weaving, and did my best to match my weaving to the drawing, using as many of the woad colors as I possibly could. Just for fun, I did a double sided tapestry and changed out the background color to show even more how the colors worked together.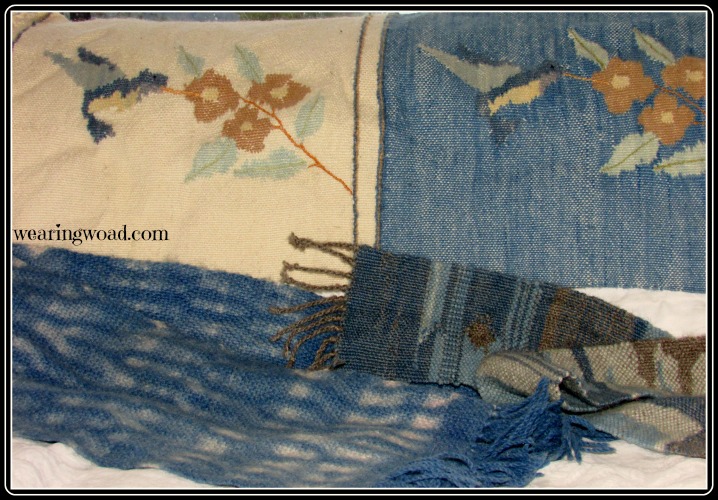 This tapestry has been on my wall for five years, and shows no sign of fading due to light. Ironically enough, moths also do not seem to like woad dyed fibers that much, and none of my woad-dyed tapestries have been nibbled at, though a non-woad-dyed one did have some moths attempt to take up residence behind it (but got caught).
A more recent woad related project was a Saori scarf, woven will woad dyed blues and natural grey yarn. When weaving, mostly tapestry techniques, I enjoyed how the three shades of blue worked together and even blended with the natural grey to produce a very pretty result.
My current woad related project is a sweater. And I am enjoying knitting with woad-dyed fibers. Even with the darkest blue, I am having no indigo rub on my hands when knitting, where I know that if I was working with Indian indigo my hands would be blue. The sweater itself is slightly random stripes, with random color changes. I've found that no matter how I pair my woad-dyed yarns, they always look good together. Even when I pair the yellow, peach, and orange colors together, they just blend and harmonize rather than contrasting. It reminds me of a desert landscape, almost.
I will upload a picture of the sweater once it is done. Right now it is about half done and I need to go knit…
Of course, making the woad-dyed yarns into a sweater will give me an awesome opportunity to really test the color-fastness of all woad shades. After all, if this sweater can handle frequent washings, and being worn outside in all weathers without fading, then I will be able to confidently say that all woad colors are colorfast and awesome.
Back To You:
What is your favorite way to use naturally dyed fibers? Do you have a favorite technique that highlights the uniqueness of your natural dyes? What is your favorite fiber to use for natural dyeing?
Leave a comment, I enjoy hearing from you!