Solar dyeing is a set it and wait method of dyeing that is most often popularized for working with weak acid dyes, kool-aid, and other quick set dyes. It takes advantage of solar energy to warm the fiber and dye enough for the dye to take. It's benefit is that it is a set-it and forget-it style of dyeing that can be worked into anyone's schedule.

Recently, I've been working with several fun dyes that are heat sensitive. If they get too hot, you can lose their color. The dyes I've been experimenting with include avocado skins and pits, and black hollyhock blossoms. Other dyes that are heat sensitive include cochineal and madder. Most natural sources of red, pink, or purple are heat sensitive. If the vat gets too hot, you lose the color.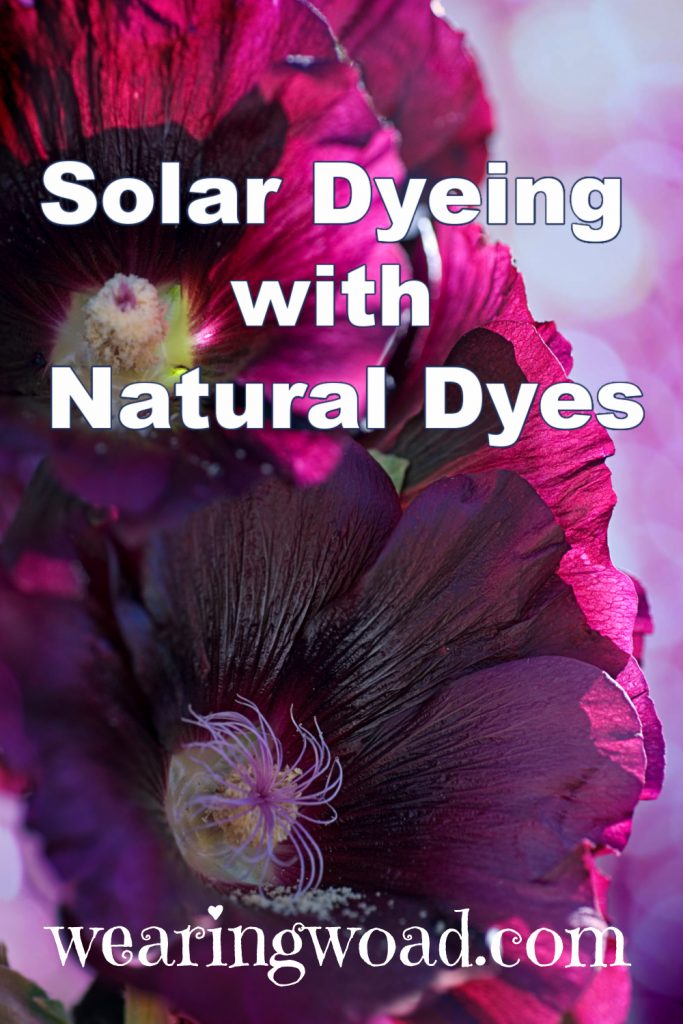 Now, natural dyes are also frequently fermented dyes. You set up the dye vat with the plant matter, and let it ferment for two or three days to help get the best color. Fermented natural dyes include many yellows, like dyers marigold, weld, and walnut.

Enter solar dyeing as a method to combine both low heat, and mild fermentation to try and get brighter natural dye colors. Also, it means I don't have to be watching my stove like a hawk. A sunny window-ledge, a few jars, mordanted fibers, and your natural dye of choice, and you're ready to try solar dyeing with natural dyes.
Basics of Solar Dyeing:
Solar dyeing can be used to take advantage of relatively small quantities of dyestuffs, and small fiber or fabric quantities. This means you can safely test a natural dye. You can test how a dye will behave with a certain fiber, or mordant, and have more freedom to experiment. 
Solar dyeing works amazingly with washed fleece. Just make sure to put the dyestuff in a tea-bag or other container if it could get into the fibers.
So far, for my solar dyeing experiments, I've used avocado pits and skins, and black hollyhock flowers. I also want to try it with Siberian pea tree leaves, and with mountain ash berries (this week, I hope!). My best success was with the black hollyhock flowers. 
I gathered dried and fallen black hollyhock flowers from the base of the plant. I had six or so blossoms leftover from some direct contact dyeing.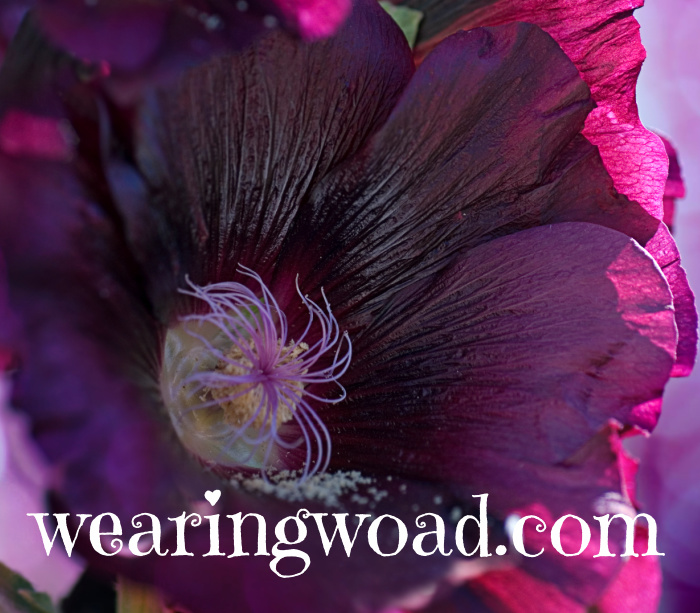 How I Do Solar Dyeing:
Start with premordanted silk scarves, or fabric of choice. Fill the jar with hot water, and drop one or two blossoms in, then start layering the silk down into the jar. As you layer the silk into the jar, drop the remaining blossoms in, with the last blossom or two going on top of the scarf.
Cap the jar securely, and give it a good shake. Set on a sunny windowsill, with a cloth or plate underneath to catch any drips. Shake twice a day, and leave on the window sill for 3 days to a week. This lets the solar dyeing work best, you can also set it outside in direct sun.
You may notice color going into the water, and then later see that the cloth has taken the color and the water is clear again. This is a fun process to observe. If the water has a lot of color, but the fabric doesn't seem to be taking any more of it you can change up the process.
To help the fabric take the remaining dye, add a half teaspoon of regular salt to the jar. Cap and shake well. Set the jar into a saucepan of water, and gradually heat. Try not to let the water boil if you are working with a heat sensitive dye.
The slight addition of salt, and the increased heat, should let the remaining dye absorb into the fabric.
Back to You:
What natural dyes would you try solar dyeing with? If you've tried solar dyeing, how did it turn out for you? What were your results?