A look at the history of tie-dye shows that it is a fun and bright dye style that is rooted in traditional shibori dyeing techniques. As well as other resist dye techniques from other cultures. Shibori techniques, and natural dyes, are a viable way to create eco-friendly tie-dye at home.
When most people think of tie-dye, they think of the garishly toned and overly-bright fabric creations from the 1960s. While that is correct, in the history of tie-dye, it's roots go back deeper into history. Currently, tie-dye uses fiber reactive and weak acid dyes to obtain bright and vibrant colors. The white band effects are to separate colors, and potentially provide a pattern.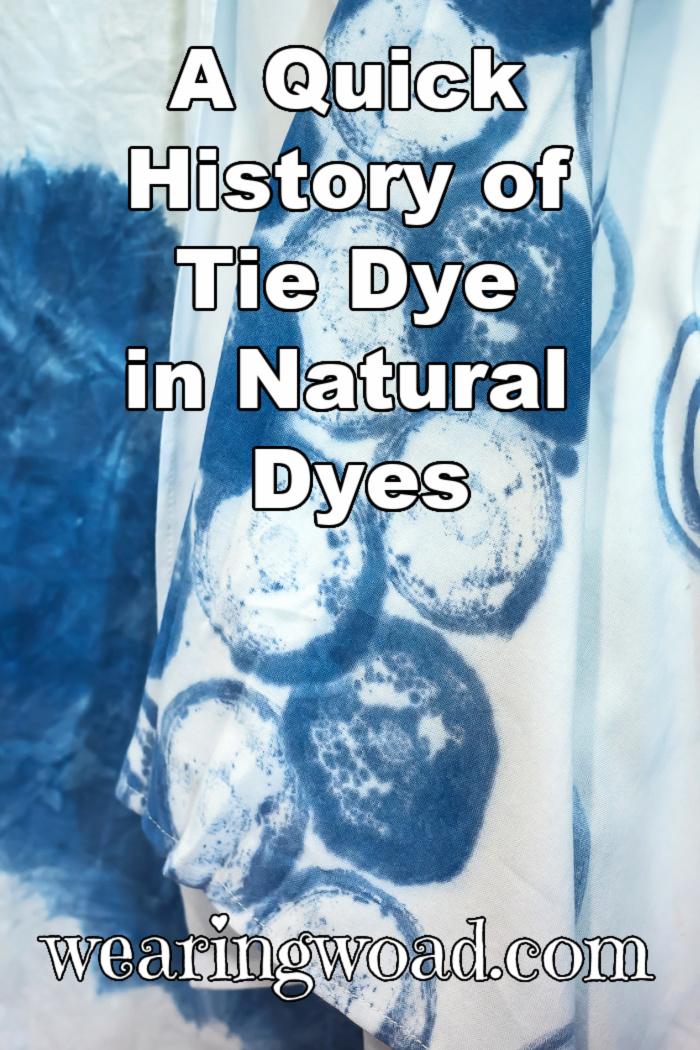 The current history of tie-dye focuses back to the hippie movement. The colorful brilliance of this dye technique is still appealing. Getting an exact duplicate of current tie-dye techniques in natural dyes is impossible. You cannot achieve the bright, primary tones of tie-dye with natural dyes. The dye isn't as concentrated, and the colors require long soaking to get rich enough.
One of the unique things about modern, bright, tie-dye is that it surged in popularity after WWII and the Great Depression. After the more subdued tones of those eras, it helped represent the hope that people felt for the future. In color, the future felt brighter. Many of our current color trends are trending back into the subdued brown, black, grey, and blue shades. It's actually a bit ironic how trending clothing colors can reflect the general outlook (hopeful, or fearful) of the culture at large.
Back Into the History of Tie-Dye:
The traditional roots of modern day tie-dye are based on natural dyes. Various cultures, from India, to Japan, to China, and even other cultures have variations of resist-based natural dyes. You may have heard of warp resist weaving, Bandhani, shibori, mud resists, batik, and other resist based natural dye techniques. These are the precursors of modern day tie-dye.
Within the history of tie-dye, these historical methods most frequently used one, or at most two, dyes to achieve deep colors, and impressive designs. Batik is an exception, as batik cloth often uses four or five different dyes to achieve the richest effect. Mud resists are also an exception, as they used iron-rich mud to change the color of a flat piece of fabric in select designs.
Shibori is my personal favorite of these techniques. Traditionally used with indigo, and perfect for using with woad, shibori techniques can be as complex or simple as you wish them to be. The main goal, if just using indigo, is for a night sky effect. Crisp and clear white fabric, with deep and rich indigo blues.
Shibori beyond Indigo
Shibori style techniques can also be used with other natural dyes to give it more of a tie-dye effect. You could call it a traditional take on modern tie-dye. One interesting shibori technique I encountered was one where the resist threads were inserted during weaving, known as loom controlled shibori. It was fun to do, but a bit complex.
You can achieve tie-dye like effects by doing an initial under-dye, then applying the resist, and over-dyeing the fabric. If you are using more dyes than indigo or walnut, consider pre-mordanting your fabrics as well.
After-bath mordants or applying a direct color-changing mordant to some areas of the fabric, but not others will also give similar impact.
Lastly, doing an initial dye vat with the fabric tied in a resist, then undoing that resist and re-resisting the fabric before the second dye vat, can give even more diverse and artistic effects.
All three of these techniques can be applied to any natural fiber, and with any natural dye. Just note the differentials in color of various natural dyes, and apply brighter colors, like turmeric or onion skins, before deeper colors like walnut or indigo. This will make sure you get the best color effects.
You can learn a bit more about the history of shibori here.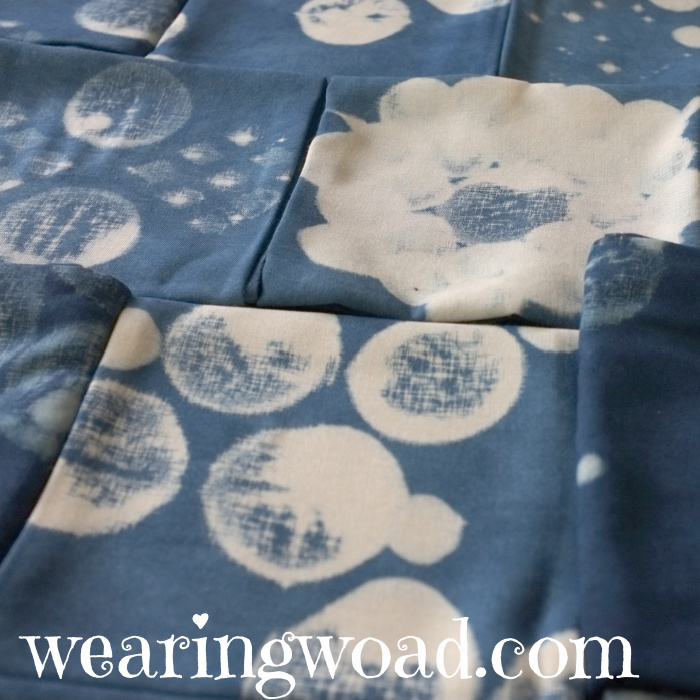 Back to You:
What is your favorite resist based natural dye technique? What else would you like to learn about shibori? Leave a comment.