Mordant silk with confidence with this simple step by step method for pre-dye mordanting.
I've talked about different types of mordants before, and basic mordant techniques for wool and cotton fibers. Silk requires a bit more care in the mordanting and dyeing process. This is due to the fineness of the fibers, and the natural sheen of the silk. If you are curious about mordanting in general, check out An overview of mordants for natural dyes, if you prefer working without mordants, try these two natural dyes that never need a mordant.
Silk is one of my favorite fibers to work with, in natural dyeing. Silk takes dyes richer, and darker, than the other protein fibers. Silk's sheen adds to the richness of the color tone, as well. However, silk's sheen can be ruined by bad mordanting, or dyeing practices.
Remember: you cannot simmer, or boil, a dye vat, or mordanting vat with silk in it, as it will ruin the silk's sheen.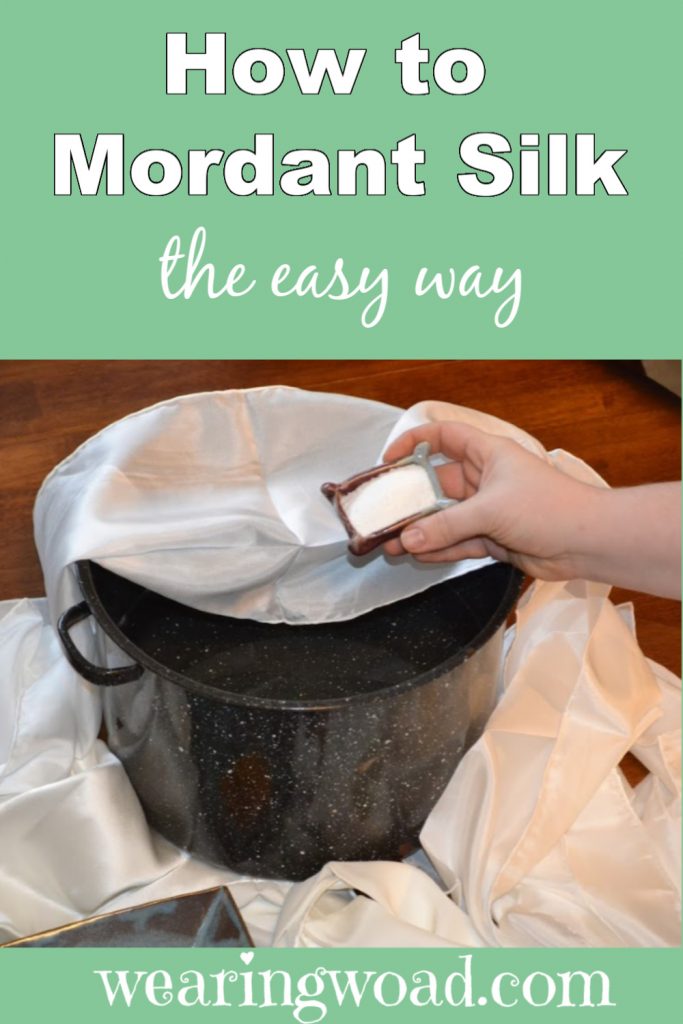 How to mordant silk:
Mordanting silk is very similar to mordanting other protein fibers. However, unlike wool that can withstand simmering, or plant fibers that can withstand boiling water, silk should only be mordanted in warm to simmering water.
Mordanting Silk pre dyeing Mordant:
The most common mordanting method uses alum as a pre-dyeing mordant. This insures even color application to the fabric, and lets you have control over how much mordant you use.
What you need:
Alum powder, 15% by weight to your silk blank or fabric
Cream of tartar, optional but helps preserve the silk's sheen and soft handle
a dye vat
warm water
How to pre-mordant silk:
Fill your dye vat with warm water to about half way. You want there to be enough water to let the fabric flow freely in it.
Add the alum and cream of tartar, stirring the vat till all traces of alum have dissolved in the water.
Add the fabric and stir. Let the vat cool with the fabric inside it. You can leave fabric in the mordanting water as long as you wish, I recommend overnight. If you are busy and cannot remove the fabric from the mordant, no harm will come to the fabric. Make sure you do not heat the mordanting vat with the silk fabric inside it, without closely monitoring it, if you have let it sit.
Remove the fabric from the mordanting vat and immediately place in your dye vat of choice. If you do not have an active natural dye vat, you can hang the mordanted silk to dry.
Mordanted silk can be dyed at any time after mordanting, just make sure to wet thoroughly before adding your pre-mordanted silk to your dye vat.
Post Dye Mordanting
You can also dredge a silk scarf through a post mordant dye bath for color change and adjustment. Soak copper or iron items in vinegar for 12 hours, and up to a week. Pour 1/2 cup of the solution into a warm container of water, just large enough for the silk fabric to rest in. Fully soak the silk in the after-mordant to effect color change in the post-dyed fabric. Rinse thoroughly in pH neutral water when done.
Your Turn:
What creative mordanting techniques have you used? If you've used post-dyeing mordants for color change, were you happy with the result? Leave a comment, I would love to hear from you!