For me, the perfect time of year to indulge in natural dyeing is autumn. The days are shortening, and one's thoughts seem to naturally incline to more creative and fiber-y pursuits. Having a wood cook stove also helps, as when the fire is going there is no better surface for letting a dye-pot steep and remain hot, than a wood-fired stove.
So, this week I grabbed a bag of weld stalks from two years ago. It has sat around in sub-prime conditions for over a year after we had claimed the seeds off of it. In the paper bag, which has been sitting around the woodstove for at least one season, were stalks and leaves from the weld plant. Actually a surprising number of leaves, but of course there are always plenty of stalks to snap to fit the pot too.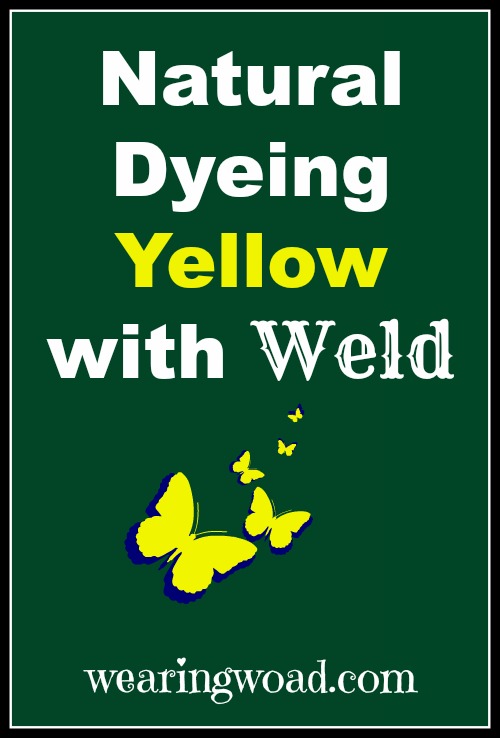 Dyeing with Weld Preparing the Dye Vat
The first step is preparing the dye vat. For this purpose I grabbed a stainless steel dye-pot (aka sauce pot), and stuffed all my dry dye-stuff into it. All the dry stalks, leaves, and a few stray fragments of who-knows-what ended up in the vat.
Then I covered the whole dry mess of stalks, leaves, and sharp splintery fragments, with water and sent it to the back of the woodstove to simmer.
Dyer's Note: Yellow dyes can, and should, be brought to a boil. However, reds should not be boiled though they can be simmered. Once indigo is in a reduced state, it should never be brought above "comfortably warm" (slightly cooler than the average shower probably).
Once the vat is well simmered the vegetable matter can be strained out of the vat. I left my vat on the back of the stove for several days, though if you bring it to a full boil you do not need to let it steep as long.
Prepare your Material to Dye:
For my dye vat, I prepared several silk scarfs, and some washed fleece (to exhaust the vat after the scarfs were dyed). On average for yellow natural dyes, whatever your dyestuff weight is will dye an equivalent weight of fabric or fiber the darkest shade possible from that plant. However, you can usually dye double the dried dyestuff weight when you fully exhaust the vat.
To prepare your fiber or fabric for dyeing, make sure the materially has been washed with soap to remove oils. If you are dyeing yarn, make sure the yarn is in a skein and that the skein ties' are loose enough to not cause a resist effect. Of course, if you really want to, you can dye skeins tightly wrapped up for a variegated yarn, a technique that works best with over-dyeing.
Once the material is washed, mordant in an alum solution. If you want to play with the mordant colors, you can always do an after-bath mordant once the fabric or fiber has been dyed. Also, if you are working in a food preparation zone (such as on a wood cookstove near the kitchen), you should make sure not to use any toxic mordants. The after-bath mordant can be applied cold to achieve the color-changing effect.
Once your material is prepped, drop it in the hot dye-vat and set aside to simmer for an hour or several. The longer you simmer the vat, the closer the fabric will get to "dye saturation" and the darker your end color will be.
As soon as your first fiber or fabric is as dark as possible, toss in some more fabric or fiber to get the lighter shades. Lighter shades are always good to over-dye later on, or if on loose fiber or fleece, they work well when carded and blended with other colors.
Eco-Friendly Natural Dye Cleanup
Most of the challenge in natural dyes comes during the cleanup after you have finished dyeing. To keep your natural dye endeavours as eco-friendly as possible, keep a few cleanup tips in mind.
Always compost your used natural dye material. It's all plants, and it can all be processed back to soil. If you're nervous about using certain dye plants as compost for food, you can always make a small compost pile that is set aside for flower, or natural dye, gardens.
Keep your mordant water in a sealable container for re-use. The biggest "eco" challenge of natural dyes is the metal mordants used in the dyeing process. The water you use to dissolve and apply an alum mordant can be saved in a sealable plastic pail until your next dye endeavour. When that used water can be re-heated and have more alum dissolved in it before being used to mordant the next batch of fiber.
If you use a "toxic" mordant such as copper or iron, make sure to follow proper disposal or storage protocols and make sure to keep all mordants out of the reach of children, and pets (and really anyone who doesn't have a clue about natural dyes).
Weld is among the most colorfast of the natural dye yellows, and can provide a beautiful green when used to over-dye items already tinted with woad-blue or a light shade of Indian indigo.
Back to You:
What yellows have you used in your natural dye endeavors? Is there a tip or suggestion you would have for someone who is just starting out dyeing with natural yellow dyes?
Leave a comment, I love hearing from you