Christmas is under two months away, and the end of the year is right after. Many who go all-out on Christmas end up starting the new year with a challenge, a narrow budget and the struggle to satisfy last year's Christmas extravagance in a new year when they should be having a fresh start.
Taking a quick wander around the internet brings many easy, complicated, inexpensive, and creative gifts for any skill-level or set to create. As well as awesome Christmas crafts, ornaments, decorations, and just general festive fun stuff to play in.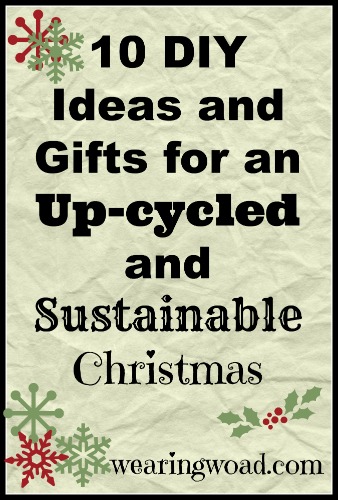 While I enjoy this season of the year, I always love the challenge of creating gifts that have a high level of meaning, or buying gifts from local artists and artisans to help the local arts community.
If you know someone who sews, or if you like up-cycling fabric, you can find more sustainable ideas here:
10 Creative Christmas Gift, Wrapping, and Other Ideas:
1. A hand-made gift can be the most interesting, and well-loved and practical gift. While many people may have more scarfs than they could wear in a life-time of winters, there is nearly always room for one more to show up – I can never find a scarf when I actually need it, though they are everywhere when I don't need them. A handwoven Shibori scarf can be an easy weaving project, and an awesome way to highlight your natural dye experiments in your gift giving.
2. For the wood-worker or handy-man in your life, a useful gift could be a magnetic wrist cuff to hold the stray metal bits that always hang around your working area.
3. Christmas ornaments can be a drain, or an awesome way to utilize up-cycled techniques to create a completely unique Christmas experience. Check out a creative up-cycled ornament roundup and see if there's some you want to create.
4. Who is the most difficult person to create gifts for, or shop for, on your list? If you're like me, it's probably a male family member like a husband, father, or brother. Here's a dozen hand-made ideas especially for the men on your Christmas list.
5. If you do stockings on Christmas morning, you'll know that it can be a challenge to fill those. Handmade candy can be an effective option, while other creative and sustainable crafts can fill in the rest of the space. Candy can also make an good, and usually well appreciated, gift for co-workers, neighbors, and friends.
As a child, my all-time favorite stocking stuffer was a pair of handknit wool socks, they were too awesome.
6. Of course, if you enjoy doing more direct gifts. Christmas gifts from recycled and up-cycled materials are always an interesting challenge.
7. In the carnage of Christmas morning, the gift wrapping goes everywhere. While beautifully wrapped presents are a highlight under the tree, having one to two garbage bags (or more) of used and now useless wrapping paper can be discouraging. Try recycled, up-cycled, reusable, and even permanent wrap solutions for a more earth friendly Christmas morning. The up-cycled part can include the gift tags too!
8. Christmas stockings are a highlight on any Christmas morning, and these cute up-cycled denim mini-stockings would make an awesome wall decoration, or mini-goodie (or early breakfast?) bags for the early-risers.
9. Just for a fun and festive touch, have you ever thought about turning plastic bottles into pet penguins? While the tutorial is not in English, the pictures are clear enough and I think this could be an awesomely cute gift too.
10. Of course, in the hustle and bustle of daily living, sometimes one of the most remembered and treasured gifts we can give, is that of our time. Time is nonrenewable, but the memories given when working alongside a family member on a project or enjoying an event or experience, will always remain beyond the ravages of time.
Back To You:
If you found any of these projects informative, helpful, or inspiring please let me know. Also, if you have any suggestions for additions, I would love to hear from you.
While some may still think it's early for Christmas prep, I know that for a truly sustainable Christmas, there is no time too early to be preparing 🙂