I recently bought a phone, for travel use. The phone came with a screen protector. After a few days of travel, the screen protector lifted due to dust. So, I had a phone without any protection whatsoever. Since I still had yarn around, I decided to make a knitted phone case. I decided to use yarn scraps, because knitting in one color is boring and I like using up the little bits and bobs that often plague one's knitting storage.
Now, what would you do if you had a phone with no case or screen protector? Buy a case, or make one?
Being who I am, I decided to make a case that will, at the very least, protect the screen while it is in my purse. I can't make a case that I can have on it while in-use, so I'll just have to be careful with the phone when using it. But, I'm more worried about scratches and scuffs in my bag, than I am about dropping it.
Note: This case will just hold your phone, and is only secure enough for your phone.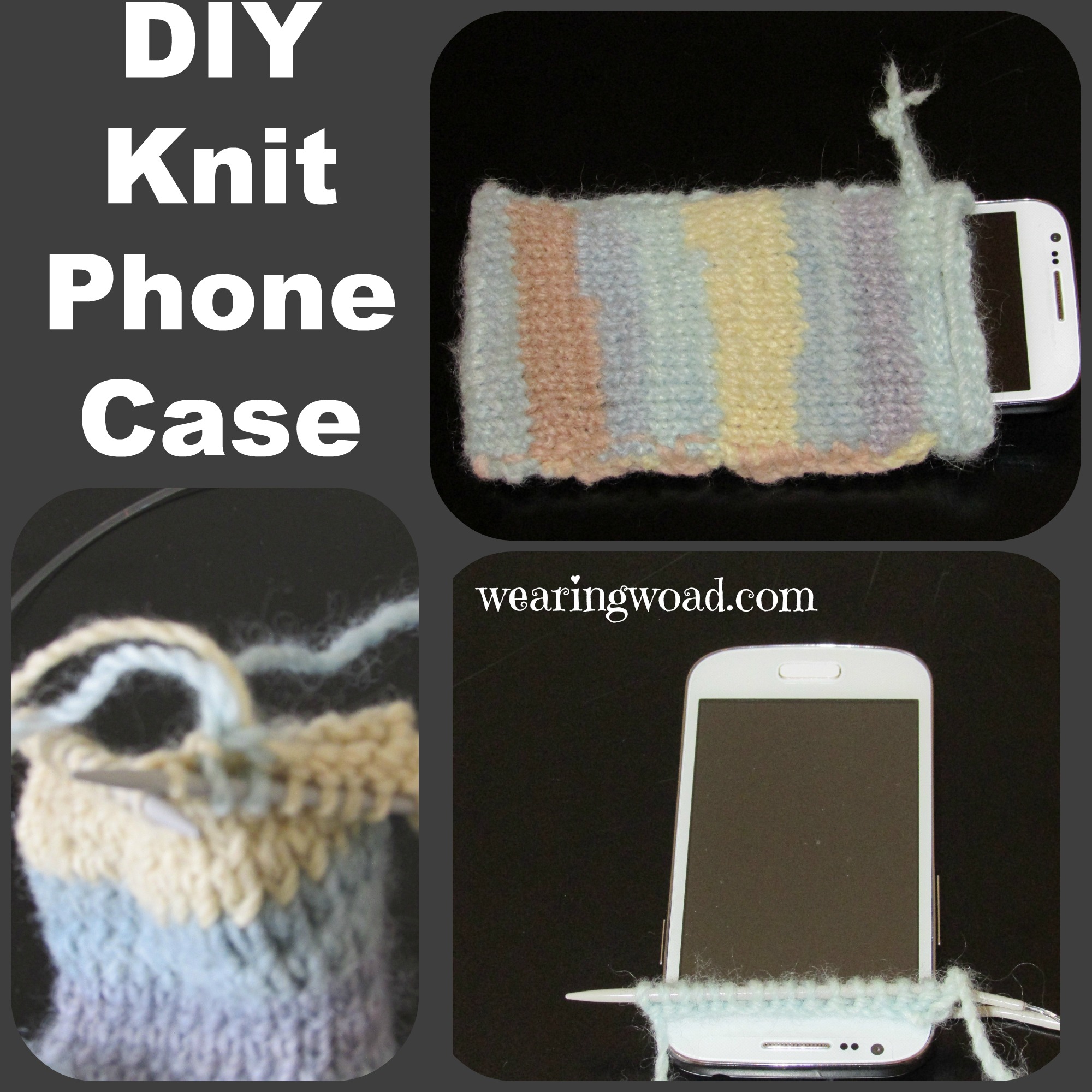 Materials:
Note: some links may be affiliate links. Please see page footer, or privacy page, for more information.
Knitting Needles – I am using circular needles, about one size smaller than I should be using with this yarn. I also use a set of double pointed needles for making I-cord.
Yarn Bits – If you have worked with yarn for any length of time, particularly doing tapestry weaving or fair-isle knitting, you probably have a pile of yarn scraps that are too long to toss, and too short to use. I used woad-dyed yarn for this project.
Crochet Hook – essential for securing sides and fastening in loose ends.
Making your knitted phone case:
Step One: Determine how many stitches will comfortably reach across your phone, leaving a bit of overlap for when you stitch up the sides. I tried mine with 16 stitches and 20 stitches, before settling on 18 stitches as the best size. You may want to knit two or three rows, just to see how wide the actual knitting is, before you make your final width decision.
Step Two: Knit a row, and purl a row. I like the appearance of stockinet stitch, but you can use any stitch pattern that you desire. Either way, knit two rows.
Step Three: On the third row, create a row of eyelet holes. Knit two, yarnover, knit two together. Knit four, yarnover, knit two together. With 18 stitches you should be able to create 4 eyelet holes.
These eyelets are to run a cord through, to secure the top of your phone case and prevent the phone from escaping.
Purl the next row, then continue in stockinet stitch until the length of knit fabric is just about twice the length of your phone.
Step Four: Once you have knit the majority of your case, check the size. When you are within three rows of the end, create another eyelet row. You will want to make 4 holes per side, otherwise your I-cord will not run correctly. Then, purl and knit your final two rows and cast off.
Step Five: Crochet the sides of the case together. Or sew them together with a yarn needle.
Step Six: Create a length of I-cord. Cast on 2-4 stitches, slide to opposite end of the needle. Knit the stitches. Slide to opposite end of the needle (so the thread is pulling around the stitches) and knit the stitches again. Repeat until you run out of yarn, or the cord is the length you desire.  Alternatively, if you have a lucet or a knitting nancy, you can create the cord on that. Or, just braid a cord with several strands of yarn.
Other Techniques:
The Yarnover:
A yarnover is simply running the yarn around the front of your needle, as for a knit stitch, while in-between stitches. It is used as an increase when making dishcloths, and in several other patterns, hence the need to knit two together after each yarnover.
Yarn Joining:
When working with short lengths of yarn, you will likely only get two or three rows before needing to add in another piece. In this case, the most efficient method for joining is to leave a one or two inch tail on your active thread. Knit the next stitch in the new length, leaving a similar length tail. When you go to knit (or purl) the next stitch, catch the two tails against the back of your work with the active thread. Continue catching the tails for the next 4-8 stitches, or until the tails run out. When you knit back the next row, the join will appear seamless. Securing the tails in the back, rather than knotting them, also helps avoid tedious "sewing in the ends" and the danger of "too many ends" syndrome showing up.
When you are all finished, and the sides of your case are sewn up, and the ends trimmed or sewn in. Slip your phone inside and enjoy. If you use wool, and your phone has a propensity to heat up, I would not recommend leaving the phone turned on when in the case.
I've used my case for over a week now, and had no issues with the phone overheating, or with scratches getting through the fabric. However, I will also admit that I don't use the phone that often anyway.
Update: If you live in an area with highly granular dust, you will want to wash your knitted phone case every month. It will collect dust, and that can scratch your screen if the case is not washed. Most North American areas are not as bad for granular dust as Israel, however.
Will a Knitted Phone Case Last?
Yes and no. It depends on your yarn choices, tension, and how often the phone is pulled out of your bag, or pocket, by the case.
My knitted phone case, from worsted weight woolen yarn, lasted two years of daily use. At the end of that time, the colors had faded, the yarn was worn through in some places, and the drawstring had worn most of the eyelets out of the top of the case. This was fine. It lasted how long I needed it to last.
My biggest phone use was as a pedometer. So, I was pulling my phone out of my pocket, or side-pocket on my backpack, while walking, multiple times an hour. This caused the knitted phone case's eyelets to wear out quickest. I was also keeping my bus-pass in the case, with the phone, so that caused more wear.
Other Simple Knits:
I've enjoyed finding other simple knitting projects recently, to attempt to teach my husband to knit. For teaching guys, I lean toward simple plain knit projects that can be done in a day. It's not that guys have shorter attention spans, but that I only have so much patience to teach. The other thing is that, in learning, the quicker the first victory (project finished), the easier it is to talk them into future projects.
In my family, socks are traditionally knit up by the guys (hello Scottish background). However, I'm not sure if I can talk my husband into trying to knit socks yet… However, a good book to check out for simple knitting patterns is this one. I've started working through a few of their patterns, and love the "worm scarf" idea. I think I need to make that for a niece!
Have I made another knitted phone case? Not yet, but I have an idea for one which will be more practical for the use I would have. But, for that, I'll have to get another phone. The inexpensive one I got in March 2016 barely made it through May 2018. But, it was just long enough, just like the case!