Felting is one of the most versatile, useful, and easy techniques for working with natural fibers. Nearly all protein fibers, particularly wool, can be used for felting. However, there are a few misconceptions concerning felting that still hang around. One of the main ones is that felting is bulky, scratchy, and useful only for slippers, bags, and rugs. Fabulous Felted Scarves, however, demonstrates that felting can be delicate, soft, flowing, and absolutely amazing for fashion and design statements. While this book specifically deals with scarves, many of their techniques can be translated into other felted garments with a little bit of creativity and experimentation.
Felting is one of the easiest fiber working techniques to master, and it can give some very spectacular results. All you really need for felting is clean fiber, a workspace, soap, water, and a tool or mat to help you agitate the fibers. With that equipment in hand, you can make anything from scarves, to vests, to mittens and even boots. Thus, felting is a very good technique to master if you ever think you might need to make your own wardrobe.
Since felting is a very straightforward technique, involving wool, water, soap, and agitation. You can do it nearly anywhere, as long as you have those prerequisites met. Felting does not require a huge amount of water, a spray bottle will do, and it is simple enough that even young children can make a basic rope/snake or bracelet in a short length of time. If you are working with fleece, or fiber of an unknown type, you can use this method to test if your wool will felt.
About Fabulous Felted Scarves:
This book deals with about fifteen different felting techniques, from nuno felting, to wet felting, to inlay felting, and even shibori felting! There are also several fun dye techniques covered, including some shibori style dyeing with acid dyes. One particular scarf mentions that it would be awesome if made from naturally dyed fibers, due to its muted tones. Personally, I think that scarf would look cool in all woad colours.
Each scarf has detailed step-by-step instructions, with numerous pictures, so that you can easily master that specific design technique. My personal favorite techniques are the nuno-felting which combines fabric and fiber in interesting ways, and the woven or braided felting which echoes some finger weaving techniques.
The book also starts with several pages that detail the necessary methods and techniques to create the various scarves and looks found in this book. One of the more interesting looks is that of combining un-carded locks at the edges of a felted piece to create a fur-like fringe. There is even some needle felting done on several of the scarves, specifically the autumn leaves scarf and the flower lei scarf.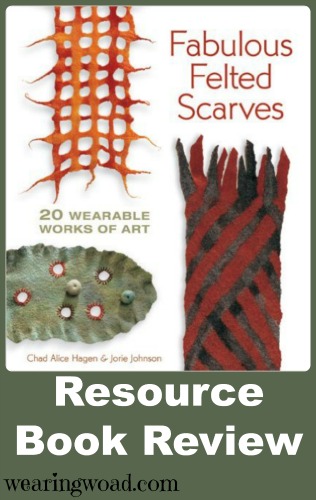 One of the added creative bonuses in this book is the gallery pages. There are 12 pages of beautiful, fanciful, and stunning felted works of art. Many could be scarves, though a few of them just look too fancy to be worn.
My personal favorite instructions, in this book, are the carded color blending instructions. Color blending is used specifically to create the autumn leaves scarf. This scarf has a gradual colour shift variation, created by blending measured amounts of two colors in a gradually adapting quantity ratio (the ratio is provided in the instructions).
I highly recommend this book whether you are an accomplished felter, or just starting out in the world of felting. For the accomplished felting artist, this book provides inspiration and several more unusual techniques. For the beginner, it provides interesting and creative projects with enough detail and teaching to make them fun to do, and a great learning experience.
Overall Thoughts on Fabulous Felted Scarves and Felting
One of the reasons that I enjoy felting is because it is faster than any of the other fiber techniques. No need for spinning, knitting, or weaving, all you need to do is take the roving and felt it. The simplicity and straightforwardness of felting makes it easy to learn, and even easier to master. Felting becomes fun once the basics are mastered, when you suddenly realize exactly how much you can experiment with it and how many amazing things you can create.
I have created a few scarves using a blend of the techniques found in Fabulous Felted Scarves. My personal favorite technique, to adapt, is the cross-hatch open work felted scarf. This scarf can look spectacular in a single color, or in multiple colors, or even when adding needle felting to it to make it look like a music staff!
Once you understand the basics of felting, the sky is basically the limit. You can create fabric, wall hangings, clothing, containers, and more with just wool, soap, water, and some creative agitation and shaping. Add in a knowledge of dyeing to your felting, and you just opened up a whole new ball-game of creative felted expression. Of course, the fact that felting is far faster than knitting is always an added bonus!
Back To You:
If you felt, what is your favorite type of garment or project to create? If you are new to felting, what do you think you'd like to make first? What ideas do you have simmering that could be expressed in felting?
Leave a comment, I enjoy hearing from you!