In today's fiber, yarn, and fabric world, there are a lot of different types of fibers and many of them require different techniques for washing and care. Fiber types of different shrink rates, require different finishing techniques, and are good for different purposes. But, if you're like me and like buying unlabeled fabric from the thrift store, how do you determine the approximate fiber content of unmarked fabric or yarn?
The Hand Test:
Well, sometimes you can tell by the "hand" or feel of the fabric. The "hand test" can determine an approximate fiber content, and when combined with a burn test, can usually be fairly accurate.
Linen is crisp, and if you scrunch it, it will instantly wrinkle, but it also has a bit of spring despite those wrinkles. Cotton won't wrinkle instantly, and it doesn't have the same spring back as linen. Wool is a bit fuzzy, a bit rough, and possibly a touch scratchy, and normally it doesn't squeak. Acrylics can feel very similar to wool, but they will often have a slightly squeaky texture (particularly when wet.
Silk is smooth, but so are many polyester and rayon imitations. However, silk is cool and warms when you touch it. Polyester and rayon usually remain cool when you touch them, and are not quick to absorb and retain body heat.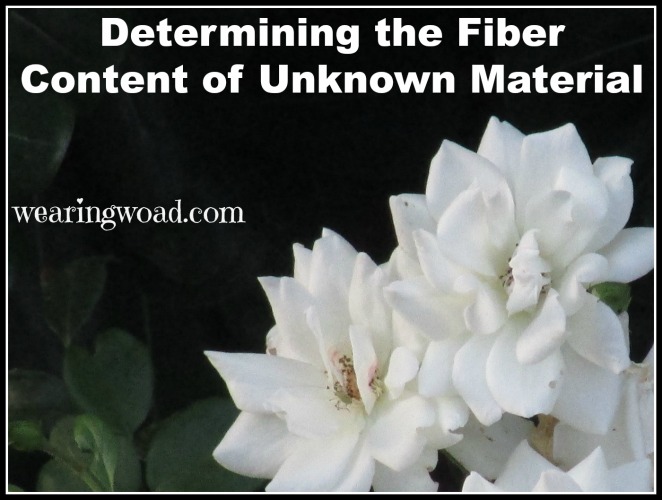 Llama, Alpaca, and Angora are warm and fuzzy. They heat up quickly when you touch them, are soft, and will often shed a little when you rub a garment made from them. These fibers are most often found in yarn, or in finished garments, not fabric. Some synthetic yarns do imitate the feel of these fibers, but they are usually more shiny and take longer to show warmth when compared to the natural fibers.
The Burn Test:
This test will tell you if the fiber is plant based, exuded, or a hair or other protein fiber. If you already have a rough idea based on the hand of the yarn or fabric, then this will simply confirm and make sure you didn't accidentally identify an acrylic as a wool as the feel can lie, but the burn test can't. Combining both tests is wise, particularly if you require specific characteristics in your yarn or fabric. After all, if you tried to felt with the acrylic, that you thought was wool, it would end up being a disappointment.
Performing a Burn Test:
For a burn test, you need about an inch of yarn from a skein, or a few threads snipped from the edges of your fabric, or clothing if you're testing a blouse or other garment with a worn-out ingredient tag.
Take your threads or yarn, and hold it in a pair of metal tweezers, over the kitchen sink, a plate, or other non-flammable area.
Using a match, or a small candle, apply the flame to your yarn or threads. As soon as the thread flares, pull it out of the flame. Watch what happens.
Wool and mohair will self-extinguish as soon as the flame is removed. They smell like burned hair, and leave a fine white ash. If it is blended with an acrylic or rayon, that portion of the fiber will ball into a hard plastic bead, but it will also leave the ash behind and have the correct smell. Llama, Alpaca, and Angora will also smell like burning hair.
However, I have heard that Alpaca and Llama wool burns quite impressively and doesn't self-extinguish.
Acrylic will smell a bit like petroleum, it will burn and lack the self-extinguishing action of wool. The fiber will form a hard plastic bead as it burns.
Rayon will also form a bit of a bead, and it will have a chemical and slightly grassy smell.
Cotton and Linen will smell like burning grass. Unless blended with a rayon or acrylic, these fibers will burn with a clean white ash.
Getting Started:
The best way to learn with the burn test is to start by testing known fibers and fabrics. Once you have seen for yourself how different fibers, fabrics, and blends react to a burn test, you will know what to watch for when testing unknown fibers and fabrics.
I actually learned about the burn test when studying various fibers when I was in grade six. While my parents kept an eye on the small candle, I found it quite fascinating to carefully introduce the fibers to the flame and then record how they burned. One thing it told me was that polyester was not a good thing to be wearing if I was working with the woodstove, or with an outdoor fire!
Back To You:
If you get unmarked fabric or fiber from the thrift store, how do you figure out what it contains? What is your preferred testing method to make sure you use consistent fibers and fabrics in your creations, when necessary?