Woad is adaptable, and can sometimes give very interesting surprises. This characteristic, besides it's awesome colors, is one of the reasons that woad is my favorite plant. Seriously, it's versatility is amazing.
Three years ago, I planted some hybrid woad seed and only one plant germinated. Carefully, I tended it through the summer and made sure to mulch it well that winter. I was expecting a few seed stalks the next spring so that I could save seed. But, come summer, it did not produce seed stalks!
It grew like crazy, and seemed to spread out to the right and left. But, throughout the summer there was no sign of any seed stalk what so ever.
Now, I have heard of people forcing woad to go perennial by breaking off the seed stalks as they sprouted. But, I had never heard of a woad plant that didn't grow seed stalks in it's second year.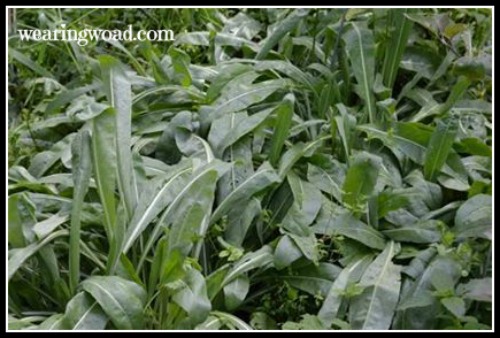 Going into winter, I mulched the plant again and marked it's spot. I wasn't sure if it would grow back or not, and figured that maybe it would grow seed in it's third year.
It actually did grow seed stalks in it's third year. Which I will plant and test when I am able. However, the plant continued to grow bushier, and crazier, without any sign of dying back after it's seedstalks matured.
Well, the proof is in the pudding as they say. When I tested woad previously, the 2nd year plant had less indigo than the 1st year plant. So, I wondered if this, apparently perennial, woad plant would contain enough indigo to dye with.
I was pleasantly surprised. The woad dyed fabric is on the left, the right is indigo dyed. A decent shade of blue for an extraction vat test, on cotton.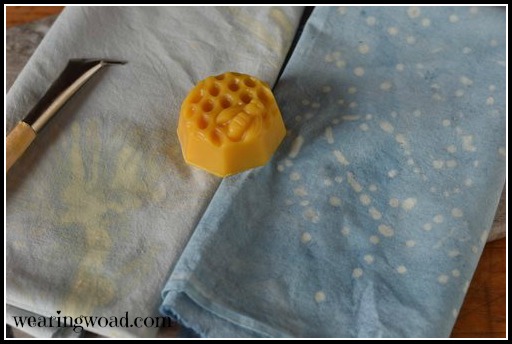 The plant appears to still be flourishing, despite it's hair cut. And, my final question is whether it will be a true perennial.
Year Four Update: The woad plant is back, and still growing strong with a few more seed stalks showing up. We shall see if it decides to die back this year, or continues behaving like a blooming perennial (literally).
This particular plant is a natural hybrid of the strains I grew for my science project, one of which originated in Birmingham, England, and the other originated in Toulouse, France.  The nice thing about this plant not over producing seed is that it won't accidentally spread. When there's only a few seed stalks it is easy to harvest the seed before the seedlets loosen their grip on the stalk. It's propensity for not producing seed for several years, however, also means it is easy to contain.
Note:
Next week is part
four of the vertically stripped sweater
, so stay tuned! My favorite part of the vertically stripped sweater is that all the colors are sourced from my own garden, and from my favorite natural dye plant. Though, I think the sweater would look awesome in natural tones, or indeed in any palette. It's quite the versatile pattern.
Back To You:
Have you grown woad before? What is your experience with this awesome and amazing plant?