Material dyed with natural dyes sometimes requires different treatment than material dyed with conventional dyes. Both natural and synthetic dyes form chemical bonds with the fibre, however the bonds that natural dyes form do not damage the fibres and are weaker than their chemical counterparts. The variability and often fade-ability of natural plant dyes is one of the reasons people despair of achieving sustainable clothing. Though if something doesn't work the first time, you can always re-dye it.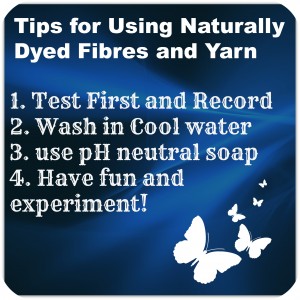 Washing:
Natural dyes should be washed in cool or warm water. The soap used should be pH neutral to avoid accidental colour modification. Many natural dye colours rely on either a basic or acidic pH, if the pH is changed the colour will change. This is particularly relevant of dyes like red cabbage and some woad dyes.
Care in Creativity:
Yarn and wool can be used normally. There is one exception, natural indigo dyed yarn or roving. Natural indigo forms physical bonds with the fibre, not chemical bonds. When using yarn or spinning roving dyed with natural indigo some dye will rub off on your hands. As it is natural indigo, it is safe. It is simply something to be aware of.
If you are felting naturally dyed wool remember to use a pH neutral soap. Also, in felting the water alternates between hot and cold, with high agitation. Some natural dyes will fade under these conditions, others will not.
Can you tell what dyes will withstand harsh treatment?
Doing a light or wash-fast test can help you identify which dyes are fugitive and which dyes can withstand normal wear and tear. For example, indigo will barely fade in a light fast test, but fades like crazy in the wash fast test. On the other hand, beets will fade rapidly under either test, while onion will fade more with light than with washing. Half the fun of natural dyes is the experimentation, so have fun and go for it.
Back to You:
Have you worked with a naturally dyed fibre and been disappointed with how it behaved? What did you do to compensate? I would love to hear from you, share your story.