Once upon a time, and long, long ago, all fashion was sustainable. Now, the realm of sustainable fashion, and sustainable clothing, is a dark and dreary mire in which the unwary traveler could quickly lose their way (and their wallet). Not that there are any gentlemen of the road hanging around, but sometimes the marketing, buy words, and emphasis on certain products can get confusing.
Conventional fashion is the opposite of sustainable fashion and sustainable clothing. Conventional fashion changes rapidly, usually at least once a year, and if one tries to keep up with seasonal trends it rapidly becomes four times a year. What is "fashionable" one day is out the next, and the garments themselves wear out nearly as rapidly as their trend.
Understanding Consumer Fashion:
To understand the Why behind sustainable clothing, and the desire for sustainable fashion, we have to understand what goes into conventional clothing first. Conventional clothing is made cheaply, created to wear out, and often out of the least expensive fibers. That is why there is a prevalence of synthetic fibers in today's fashion. They are cheap and wear out quickly. Wool, cotton, linen, silk, and other natural fibers are blended with the less expensive man-made fibers, making garments that do not have the full natural fiber benefits and are designed to wear out.
Not to mention that thousands of tons of raw material are shipped from their production countries to the processing countries. Turned into fiber, fabric, or clothing, and shipped half-way around the world back to their countries of origin. Erm, remind me again how bad carbon emissions are when we're shipping all our clothing once around the globe just in the processing?
I call the quick turn-around goals evident in the current clothing industry "consumer fashion." However, this label can also apply to many of the supposedly more "sustainable" clothing options. Here, I am simply going to cover the fiber and some fiber manufacturing techniques. If you are really interested in finding sustainable clothing I would recommend brand research.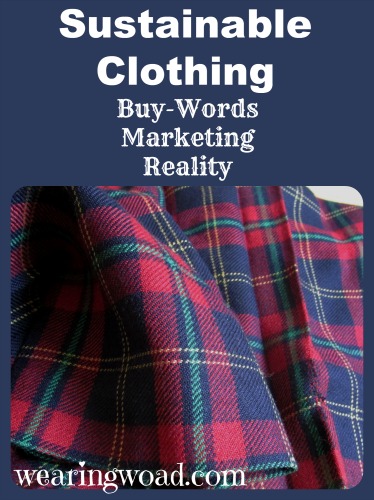 The Buy-Words and Marketing in Sustainable Clothing:
Words like "organic," "natural," and "eco-friendly" are often bandied about on labels, advertisements, and in articles on certain clothing or fibers. But, what does that all really mean?
Organic refers only to the growing condition of the initial crop. Organic cotton is standardly non-gm, and would have only organic compatible pesticides or herbicides used in connection with it. Cotton is a natural fiber, and an organic growing system is more sustainable than the conventional non-organic monocultures that are prevalent. For environmental sustainability however, is organic cotton shipped around the world and back for processing really more environmentally friendly than non-organic cotton grown and processed locally?
Another organic fiber bandied about is the ubiquitous "Organic Bamboo" which is supposedly a natural fiber. Last time I checked, bamboo fiber was nothing more or less than rayon, an exuded cellulose product with 15+ steps, nearly all involving toxic chemicals, to create fiber. So, while the bamboo may be grown organically in China, it has the shipping costs and the chemical cost of fiber creation which more than balance any organic happenstance in its growing. Maybe creating a Canadian or American processed rayon made from fast-growing willow would be more sustainable, since willow is easy to grow organically and is a carbon sequester.
Eco-friendly is another term that is often joined to "organic" in the clothing industry. But, what does eco-friendly mean? Supposedly it means that eco-friendly clothes do not harm the environment. BUT, how many times have you seen eco-friendly attached to bamboo rayon that is dyed with synthetic dyes? For a garment to truly be eco-friendly it would have to be locally produced, a natural non-chemical fiber, and dyed with natural and sustainable dyes. Only then would the garment truly do no harm to the environment.
The Reality of Sustainable Clothing:
The reality is that the realm of sustainable clothing is complicated. Evaluating the sustainability of new clothing options has to include all parts of the process from raw material to the clothing in your local store. How is it grown? Where is it grown? How far was it shipped for processing or selling? Was it created with fair trade work? Is it a local product produced locally? What dyes were used?
You have probably heard of the 100 mile diet for sustainable food options. But, what about a 100 mile clothing diet for your closet?
The most sustainable clothing you can get is going to be created locally, from fibers that are grown and produced locally to you. And maybe even dyed with local dyes too! In my area, the local fibershed has included wool, llama, alpaca, angora, mohair, and linen, all produced within a 100 mile radius. Your fibershed may be different, or have different fibers. The local dye-shed includes woad for blue, madder for red, and golden rod and weld for yellow and green. Though the dye-shed is all grown within 100 meters of my back door, which is one of the joys of being a natural dye gardener. In fact, for mordants I could technically use locally sourced iron rock, and copper rock instead of imported alum to make it even more local – but alum is a very small, if important, part of the dye process.
Many sustainable clothing sites recommend hemp. I recommend linen for a very simple reason, anyone can grow linen. All you need is oil-seed flax seeds, a nice flat full-sun garden bed, and plenty of weeding patience to produce beautiful flax plants. Then, all you need is an outdoor bathtub or pool, a breaking station, and metal combs to produce your own special linen.
On average, locally grown fibers that are locally hand processed will create garments that have more than treble the durability of conventional garments. A locally grown, hand spun, and hand knit sweater will last for five years or more, with proper care and repairs before it needs replacing. Even then, much of the sweater fabric can be felted and used for other things (mittens or slippers), or around here it would be graduated to barn use for another few years before being up-cycled.
To put it simply, sustainable clothing also needs to be clothing that will last. There is nothing sustainable in wearing clothing for one or two years, and then having to replace it yet again.
In a case-in-point, when I was in grade 8 I bought a set, 3 pair, of rayon knee socks for formal use. While some of those socks disappeared into the "washing machine black hole" I still have two pairs of them with zero holes. The two years after that, I bought "organic bamboo" eco-friendly socks. Before the year was out, half those socks had holes in the heel or toe, despite alternating their wear with the earlier purchased rayon socks. Those two pair of rayon socks are still with me, more than 7 years later, but the bamboo socks purchased after them are long gone. So, which of those was actually more sustainable, organic bamboo that wore out within a year, or the non-organic rayon that continued to last?
Alternative Sustainable Fashion: Reusing the Discards
Alternatively, one of the funnest ways to make more sustainable clothing is to use what is about to go into the landfill anyway. Getting useless clothing from thrift stores, or going to local thrift stores to source vintage fabrics, is an awesome way to keep already-produced garments and fabrics out of the landfill and prolonging their useful life. With second hand goods, the ecological cost has happened already, and the longer the material can be re-used the less new material needs to be produced.
Depending on your local thrift store, some will just toss felted sweaters, ripped jeans, and stained shirts straight into the dumpster, others will ship them to a fabric recycling place. Possibly the ones that toss the unsellable garments would be willing to set aside a bag or two of these items for a couple of bucks per bag for you to reuse. Small thrift shops, like a hospital auxiliary or other not-for-profit are likely to be the best bets for this idea. Larger thrift stores, or chain thrift stores, will likely not want to (but it never hurts to ask).
Thrift stores are also an amazing place to find more durable garments. My favorite example is finding vintage linen table cloths at the local thrift shop. Linens that were actually made with long-line linen, which is linen 18 inches or longer, not the short chopped stuff now produced, and that will just get more beautiful every time they are washed. These same tablecloths can even provide raw material for fashioning some awesome linen clothing.
My other favorite thrift store find is Harris Tweed jackets, these jackets are grown, dyed, spun, and woven on the Island of Harris in the UK. The fabric is thick, and even when the rayon lining of the jacket is completely worn out, the wool itself shows no sign of wear. Not to mention that the tweed jacket is one of those "timeless" pieces that looks equally good with dress pants, or jeans.
Back To You:
Sustainable fashion is a journey where everyone is at a different spot. If you are just starting, you may begin by buying from more eco-friendly fashion brands. If you are more advanced, you may like sourcing local fibers and creating some of your own beautiful garments. Or, you may decide to source things with up-cycling potential from thrift shops, as well as local fibers or instead of local fibers.
Every step helps, and understanding the buy-words and some of the marketing behind the sustainable clothing trend can help you make wise and sustainable choices. I hope you found this article helpful, if so then:
What is your favorite method to increase your fashion sustainability?
Leave a comment, I enjoy hearing from you!