I had a conversation a few days ago, with a lady who was having difficulty with her fibre art attempts. Her roving was knotted, her yarn breaking, her natural dye either blotchy or fading. As we talked, I discovered that many of her struggles were coming from lack of sufficient fibre preparation.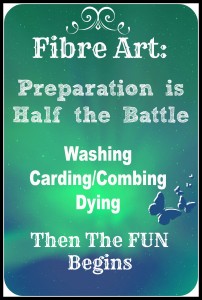 If you are buying prepared roving or fabric there are only a few simple steps for dying and fibre usage. But, if you are starting with raw wool, or even washed fleece there are far more preparation steps and a single overlooked part can cause a flurry of disappointing results later on.
Preparation for Fibre Art: The Fleece
What type of fleece do you have? Identifying the fleece type is the first step in properly preparing it. A fine fleece has more lanolin than a course fleece, and requires finer hand-cards or a drum carder with fine carding cloth. Combing works equally well for both fine and course fleeces, since you control how much combing happens.
For washing wool – use hot water between 100-107 degrees F. This will melt the lanolin and prevent the wool from becoming sticky when you are working with it. For natural dying, any residual lanolin can form a resist, so lanolin removal is essential for fibres that you intend to dye with.
I like using two or three washes of water, one with soap and two rinses, to clean the fleece. When washing wool, work with wash and rinse water that is a similar temperature and keep the agitation to a minimum to prevent felting. Before you begin working with home-washed wool, make sure it is fully dry. If the wool is not fully dry it could felt while you are working with it.
There will be two more parts in this series, to cover carding/combing and also preparation for dyes.
Back to You:
What preparation techniques do you do? What essential fibre preparation tips would you give, or did you wish you had when you began working with fibre? I would love to hear from you, leave a comment.