Summer is right around the corner, and with it the need for protection from the sun. Creating your own designer sun hat is a fun way to upcycle an old hat and express your natural dye creativity. For this project, I bought a white cotton sun hat, with minor stains, from the local thrift store. If you have a white sun hat that is stained, or worn, it would work as well.
Tea, due to it's tannin content, is a perfect natural dye for this upcycling clothing project. The tannin adheres easily to the cotton, and the addition of a simple alum mordant will largely prevent sun related fading. You can, however, use any natural dye that you currently have in abundance, like yarrow or lily-of-the-valley. However, I find tannin browns usually look good with anything, rarely rub, and are slow to fade. Also, this project can help use up those old black tea bags that have been hiding in the back of the cupboard.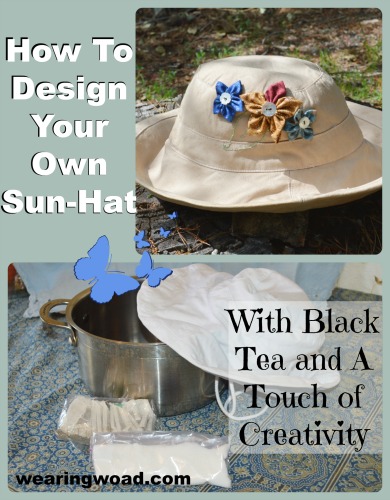 Natural Dye Ingredients:
12 0ld Black Tea bags
1 Cotton or other natural fiber sunhat
Alum, roughly ten grams per adult hat
Lots of hot water
Natural Dye Tools:
Gloves
Teaspoon
Dye pot/Mordanting pot
Natural Dyeing Basic Precautions:
While working with natural dyes of any kind, follow the proper precautions. Keep a separate dye pot for your natural dye endeavors and don't mix up your cooking and dyeing containers. Use non-reactive vessels for all steps of the natural dye process, and remember to wear gloves when working with mordants and the dye bath itself.
Dyeing with tea is a safe process, and can be done with children. However, do not leave children unattended around hot dye vats, or mordant baths.
Steps to Creating your own Designer Sun Hat:
Step 1: Weigh the hat and remove any tags or drawstrings from the hat and wash it in warm water. Washing makes sure that there are no oils or fabric conditioners that might act as a resist to the tea natural dye.
Step 2: Prepare your alum mordant. Alum should be weighed at one gram per ten grams of fiber weighed dry. I use potassium alum as my preferred natural dye mordant. Dissolve the Alum in boiling water, and insert the hat. Try to keep the hat under the liquid and let it soak for an hour or two, or until the mordanting bath is cool.
Step 3: While waiting for your sun hat to mordant, prepare the tea dye bath. I used twelve old black tea bags and steeped the tea for over two hours. Once you feel that the tea-bath is dark enough, you can remove and wring out the tea bags.
Step 4: Insert the mordanted sun hat into the dye bath. If you feel the mordanting might not have worked or been long enough, you can mix the mordant liquid with the tea natural dye bath. With the sun hat in the dye bath, bring it to a simmer. Cook the dye bath for an hour, or until you feel the hat is a dark enough shade.
You can also use simply use the mordant bath as the dye bath. To do this, you would take the hat out of the mordant bath. Then steep the tea directly in the formerly mordanting water, adding more water if needed. Once the tea is steeped, you can add the hat back in and bring the vat to a simmer.
Step 5: Remove the hat from the dye bath and let dry. Once the dye has set overnight (or until the hat is dry), check the color. If the colour is satisfactory, give the hat a final wash and dry over a form.
Variations for your Designer Sun Hat:
Overdying is a fun and simple way to upcycle clothing that is stained, faded, or accidentally had a run in with the bleach bottle. Tannin natural dyes are easy to use with cotton or wool fabrics, and safe to use on kids clothing or with kids if they want to have fun too. Sweaters, t-shirts, and cotton shorts can all be revamped and updated with a quick trip through the dye vat. If you want to get into more advanced upcycling using natural dyes, try doing multiple over-dying vats on clothing to give more visual interest.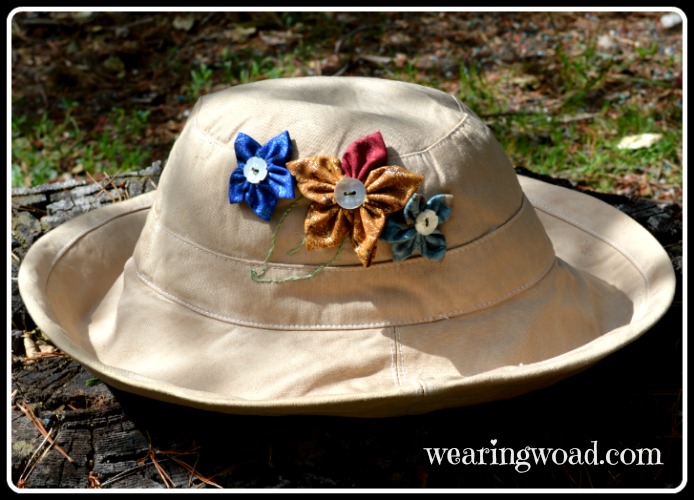 You can personalize your sun hat by adding embroidery, buttons, iron on embroidery, or fabric paint. If you want, you could do matching colour sun hats for your whole family, and then let each person design their own custom hat with extra add ons.
Embroidery is another fun upcycling technique, since you can hide stains, repair minor tears, and create an updated look just by combining a few simple stitches and threads. You can combine clothing upcycling with natural dyes, embroidery, and other surface design techniques to create unique one-of-a-kind clothing, whether sun hats or anything else made from fabric.
Back To You:
I hope you enjoyed this quick tutorial on upcycling an old hat into a fun designer sun hat, or at least found it inspirational. If you have any comments or questions, feel free to leave a comment I would love to hear from you.