Half the fun of creative up-cycling is taking something that is worn out, old, or just generally not your style and turning it into something amazing. Clothing that can be up-cycled ranges from suit or sports jackets, to t-shirts, to baby clothing, to your every day shirts and jeans. Now, well there are plenty of uses for fabric, the challenge is often getting that fabric out of the garment and ready to use.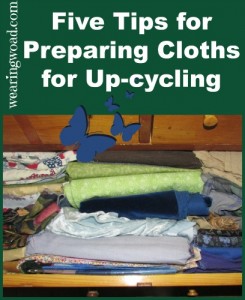 With that in mind, how do you prepare clothing for up-cycling?
1. Start with Evaluation:
Sometimes a garment is honestly not worth the time it would take to up-cycle. A sock with holes, or a completely worn out, torn, and stretched T-shirt may well be best in the rag-bag rather than the up-cycling line up. However, a knee sock with a hole in the heel can still give usable material from the leg part. While a t-shirt with holes under the arms, or a stretched neckline, can still give a good long length of t-shirt yarn from the main body.
2. Clean It:
While much of our clothing is easy to clean and wash up before up-cycling, take a few minutes to make doubly sure that whatever you will be taking apart is clean. Fabric cutting can be a dusty enough business without added dust from sitting in the "later" pile for a year.
If you have something like a suit or sports jacket that cannot be washed, throw it through a few minutes of the air cycle on your dryer to get dust and other allergens out. While you may not be able to fully wash it, you can lessen the number of things attracted to your nose while working with the fabric.
3. Start Cutting:
If you already have a project in mind for your clothing item, you will also likely have a pattern and method along with that. If you do not have a project, then aim to cut as much usable fabric as possible from your garment. On a skirt, this could mean unpicking the seams and the waistband, or just carefully trimming them off and setting them aside for later fine-picking. Jeans will mostly need to have the seams cut off, due to the thickness of fabric, unless you have a project where the seam can be a character-trait.
Most dress shirts can have the seams unpicked, as well as the cuffs on the sleeves. It is up to your patience whether you want to unpick the neckline though.
The single worst thing to do with clothing to be up-cycled is not to start, and then to possibly decide later that the garment is "too good to cut" or "I might be able to wear that soon." If you have something to up-cycling, start cutting.
4. Felt It, or Unravel it:
If you want to up-cycle wool sweaters, one of the best ways to do this is to felt it. Once it's felted, it won't unravel if cut and the thicker fabric has a range of uses.
If you have a sweater that won't felt, and is acrylic, you can very easily un-ravel it and save the yarn for another project. An acrylic sweater won't take dye, and won't felt, so there are only a limited number of up-cycles you can do with it. Of course, chopping it into bits in frustration when it won't unravel and using the yarn as stuffing for other projects is also permissible.
5. Keep It Accessible:
While it is fun to cut up old clothing and build a collection of fabrics, it is just as relevant to keep those fabrics organized and accessible. If you can't find the fabric you are looking for, it's a bit hard to actually finish that up-cycle.
As I only have a small fabric stash (don't look at my fiber stash…), I like keeping it folded (accordion style, so I can see what everything is) in the bottom drawer of my apothecary chest. "Most" of my fabric can fit there, with a few side-projects hanging out in other containers. My t-shirt yarn is usually only cut when needed, and hangs out around the crochet rug I'm working on. While a few of my other fabrics enjoy brief moments of anonymity when I need to grab a bit for an idea, or gift wrap.
I have found it very helpful to have a consistent stash of up-cycled fabrics to play with. Mostly since I am far less paranoid about the project not turning out when the fabric has already spent it's worth as clothing and is now basically free. This makes it fun and enjoyable to do experiments, and not care if it turns out or not.
Back to You:
How do you head about up-cycling clothing and fabric? Do you start with the clothing and a final project in mind, or do you collect ideas and clothing-as-fabric until you have time to do something with it? When working with fabric, do you prefer new purchased fabric over up-cycled free fabric or vise versa?
I enjoy hearing from you 🙂 Feel free to leave a comment!