Fall is officially here, in more ways than one. Sparking golden in the falling leaves, swirls of gold and red as the wind whirls the leaves into mini color flurries. The frosty white from the morning's frozen fog intersperses with the glint of deep red rose-hips. Everywhere you look, there is a new color and fresh inspiration. As someone who loves autumn colors, this time of year is inspiring from the artistic standpoint.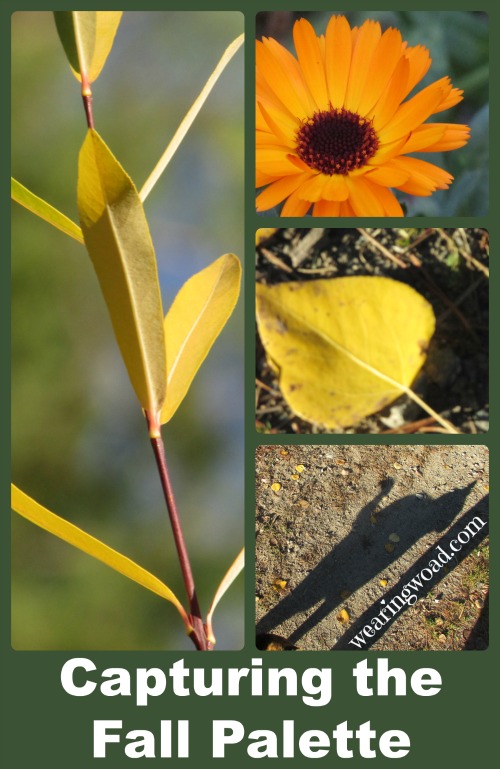 Fall is, for landscapes, possibly the best time of year to be an artist. Even painting with words can scarcely capture the depth and beauty found in a single mountainside of golden aspen trees. So, what about capturing these gorgeous tones in natural dyes, so that you can wrap yourself in their autumn warmth all year round?
Can you capture the fall colour palette using natural dyes?
Short answer, yes but not with strictly fall dyes. Some of the fall colors are best achieved from dyes harvested and dried in the summer, or dyed in the summer, while others should only be harvested once the chill of autumn sends the summer's growth to be stored in the roots.
Colors of the Fall Palette:
Goldenrod, Yarrow, and Weld yellows – both summer dyes
Madder red – madder and wild madder roots should be harvested in mid to late fall
Woad blue – woad can be harvested at any time, provided the plant has enough foliage
Weld and Woad green – dye the blue first, then over-dye yellow
Madder and Weld orange – weld will lighten and brighten the natural madder orange
Natural wool white, brown, and grey
Walnut Brown – use walnut hulls to create a warm brown, can be turned to black with the addition of an iron mordant.
Combination Dyeing for Fall Colors:
Using colours from these dyes, you can create your own felted fall scene, or item. While many of the colours are one-bath dyes, some of them require the natural dyer's "secret weapon" also known as over-dyeing.
To make green using weld and woad we need to start with the woad. A quick extraction, or a partially used indigo vat can provide the needed light to medium blue base-dye shade. Then, once your woad blue has dried you can prepare the weld over-dye. Take care, when over-dyeing, not to go too heavy on the yellow and remember that the wet color will always appear darker than the dry one.
I like using over-dye techniques on the fleece or yarn that I use to fully exhaust a given dye-vat. These pale shades are perfect for over-dyeing and giving a richer and more varied color palette than you would otherwise achieve with straight single-color dyeing.
Another technique for getting green is to dye yellow, and then use either a copper or iron after-bath mordant to sadden the color. Copper is preferable for achieving green from yellow. I have never personally tried iron and yellow together. However, I know that Iron and a tannin based dye, like pomegranate yellow, will create black.
For orange, you may not need weld to get a strong color from madder. Madder is a naturally ruddy orange red, and you can only get a "true red" with natural dyes if you combine madder and cochineal or another insect red. Thus, you are likely to be able to get a rich fall orange from madder, without the addition of weld. However, a pale exhaust weld yellow will make the madder orange brighter and more vibrant. Also, using tin, alongside the standard alum mordant, with any natural red will improve the vibrancy.
Back To You:
This is just a handful of the colors inspired by the beauty of fall. What is your favorite fall project, or colors? Have you achieved them in natural dyes? Would you try any of these fall-inspired natural dye colors?