Winter makes you long for colour. With it's bleak grey skies and glittering white ground. Dull grey trees, and dark green evergreens. When all I want to do, is curl up before a blazing fire, with candles lit on the table, and knit or spin for hours. Candles are awesome for helping chase away winter blues too.
Yes, winter is definitely here in force. Winter, dull and grey or bright with red and green? You choose, but it doesn't change the fact that it is winter and there is stuff to do that may or may not involve fiber, colour, or sitting before the fire with hot drink.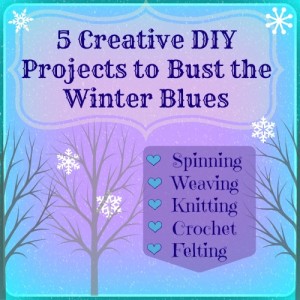 January days are short, and the nights are long. This is my time of year for working the fiber that was dyed in the summer and autumn. Long evenings are perfect for sitting knitting, while listening to an audio book, or watching a movie. But, despite the relative length of the evenings, there is still other life to accomplish, and long projects may get set aside. So, here are some three or four day projects for you to experiment with and enjoy.
5 Winter Projects for Weary Evenings:
If you're fingers find it cold. Try this eco-friendly recycled wool sweater mitten project from Joybilee Farm. It can be whipped up in two days if you include sweater felting and dying time. Use a colour patterned sweater, that has some holes in it, for fancier mittens. This is for sewn mittens, but if you want you could knit or crochet yourself some mittens or fingerless gloves too.
If the floor feels cold, or there's a draft under the door. Try making an awesome crochet rug from old jeans, or for a softer and cushier texture try cutting up old T-shirts. Recycling is fun, and getting an awesome rug out of it is even funner. If you have a table loom you could weave yourself a rag rug. Have piles of warn out white under shirts? They are perfect for exhausting a natural dye bath, and then making into tarn in preparation for other projects.
Fascinated with spinning? or find it easier to do than knitting when watching TV? Take a break from normal, controlled, spinning and try something new. Do you always spin on a wheel? try a drop spindle for a new challenge. Love the drop spindle and only use the wheel for plying? Try a new type of drop spindle. Or, if the winter blues have really crept into your spinning try getting an experiment, get crazy with colour and texture and try some new novelty yarns. Your brain, and later knitting or weaving projects, will thank you!
Have a table or rigid heddle loom? Try an evening scarf project, though it might take two evening's with a table loom. Grab your craziest yarns and textures from the stash, and let you're creativity flow. Warp may have to be nice and normal, but that doesn't mean the weft can't be crazy. make an even edge, or make a crazy fringe, and enjoy your new accessory.
Prefer felting to all the above options? Take your pick of needle felting or wet felting, both are fun and both give you a chance to play with colour and wool. A wet felted scarf may be the perfect evening project. A needle felted animal could take a bit longer. Personally, I love needle felting as there is less clean up, and I can do it in 3D. Chose your favorite character from a book or movie, and interpret it into bear form!
Back to You:
Winter is the perfect time to express creativity, or to try a new technique or challenge. If you try any of these projects, or have already done them, leave a comment and let me know!
What's you're favorite way to bust the winter blues (and your stash)? I'd love to hear from you. Leave a comment.