While many fields have dozens and dozens of how-to books and information readily available online, the field of natural dyes does not. There are a few good, relevant, and recent books, though many of the older and more readily available books have accidental misinformation and unfortunately inaccurate methods and recipes.
Natural dyes have a history of secrecy surrounding them, as well as a perceived lack of repeatability and predictability. With the resurgance of interest in natural dyes, there are some very good resources now available. One of these is Indigo, Madder, and Marigold by Trudy Van Stralen.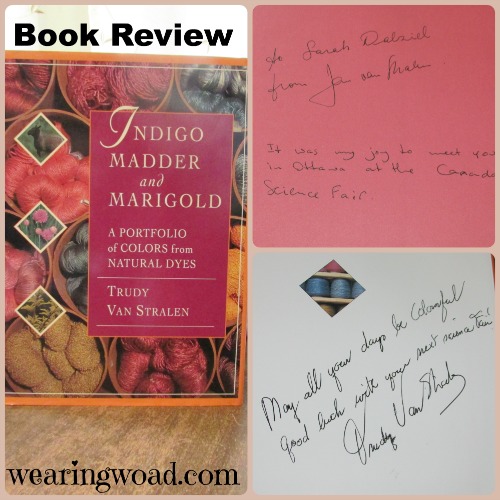 Overview of Indigo, Madder, and Marigold:
While I like the recipes and information presented in this book, I did not actually purchase it. Indigo, Madder, and Marigold was given to me as a gift after I met Jan Van Stralen at the Canada Wide Science Fair in 2009. The copy I have was signed by both Jan and Trudy, a fact that is extra special, above and beyond the specialness of the book itself.
Other than the short meeting with Jan at the 2009 Science Fair, I did not have any other contact with them. Outside my frequent referencing of the book that is. Since my science fair project was on woad indigo, I have a suspicion that Jan only came to the science fair to talk to me. Though I have no way to know if that suspicion is true or not, I do like to entertain it.
Trudy developed her own methods to achieve brilliant and repeatable natural dye colours through many years of experimentation, trial, and error. Initially her colours were drab, muddy, and impossible to repeat while the dye method itself contributed to harsh fibers, and often splotchy dye work.
The methods presented in Indigo, Madder, and Marigold are the result of her many years experience, and decades of experimentation. The colours are bright, repeatable, and colourfast. While the dye method is designed to not damage the wool or silk fibers.
My personal favorite recipes are those involving cochineal, madder, and the local yellows and browns, like weld, marigold, and walnut. Since all the recipes are done in percentages, it is easy to calculate the amount of dye stuff and mordant needed for any amount of fiber. While most of the samples are done with protein fiber, there are percentages given for cellulose and baste fibers if those are what you prefer to dye.
While I have only managed to experiment a little with the recipes presented in Indigo, Madder, and Marigold I have greatly enjoyed the results, and having the book constantly available as a reference. Or just to look at and enjoy the brilliant natural dye colours… I do that too. However, I have one challenge with the book and that is the Indigo dye method being used. Trudy uses the "Saxon Blue" method of indigo dyeing, in which the indigo is reduced using sulfuric acid rather than a normal reduction vat. This enables the indigo to be blended with other dyes in-vat, but has the side-effect of using rather dangerous compounds and making indigo unsuitable to use with inexperienced dyers, or children.
Back To You:
What are your favorite natural dye reference books? Have you ever read Indigo, Madder, and Marigold? Leave a comment