There are few things more frustrating than laboring to harvest, extract, and use a natural dye and then finding out that that it is not a colorfast natural dye. This happened to me one year, when I tried to dye red with St. John's Wort. It took several hours, out in the hot summer sun, to pick the flowers I needed to dye a single skein of yarn. After dyeing, the color was amazing. But, within a few short weeks, the color faded to a muddy maroon brown, miles away the bright reddish tone it had held before.
While a list of some of the top fugitive natural dye offenders can be very helpful, knowing what not to dye does not tell you what is best to use. In pursuance of that, here are the top seven color fast natural dyes. These are dyes that were used commercially for thousands of years, and were known for their fastness, trueness, and usefulness. Some of these you may be growing in your own back yard, others you may be familiar with.
Colorfast Natural Dye:
These top seven colorfast colors are as follows, Indigo, Woad, Walnut, Weld, Goldenrod, Cochineal, and Madder. This gives you a complete set of primary colors, ready to be dyed and blended to make a rainbow of beautiful and colorfast colors.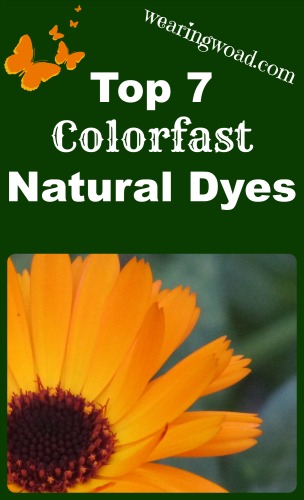 Indigo:
This beautiful dye gives the worlds' darkest and most valued blue. For thousands of years, the darkest shades of Indigo blue were sought by sea and by land, and indigo itself was part and parcel of the wars and uprisings that took place not just where it grew, but to secure its possession. This color is exceptionally lightfast, and when properly dyed is also surprisingly wash-fast. This is due to the molecular structure, as I mentioned before.
Woad:
This beautiful blue is different from indigo in several interesting ways. For one, in the medieval indigo vats, they would add woad balls to aid the fermentation and to increase the fastness of the imported indigo. For some reason, the indigo procured from woad, while molecularly identical to Indian indigo, has a slightly different fastness rating and is more wash-fast than Indian indigo though woad indigo and Indian indigo are equally lightfast.
Walnut:
If you have ever taken walnuts out of their hulls, you are probably aware of the dark brown stain that will color your hands, or gloves. This beautiful brown is exceptional for natural dyeing, giving complex shades of dark brown, and some beautiful soft muted browns as well. Walnut is one of the few plant dyes that does not need a mordant to be permanent, and is very resistant to light and washings. Walnut dye can also be used as an ink, and when combined with iron will make a fast black.
Weld:
This fine plant is one of the few colorfast yellow dyes available. Used to make green in combination with woad and indigo in past history, dyers weld is one of the more expensive yellow dyes. Its colorfastness is due to the color's behaviour on the molecular level, and only a few yellow dye plants actually contain this particular compound. Due to this specific dye compound, anything dyed with weld should be mordanted with alum and cream of tartar, and also have a large-ish dash of washing soda added to bring out the yellow tones.
Goldenrod:
This beautiful Canadian flower, or weed depending on who you ask, is also a very colorfast yellow. Goldenrod contains the same dye compound as Weld, and is therefore just as fast. However, Goldenrod has the added benefit that it often grows in your own backyard, and is a very handy as well as colorfast natural yellow dye.
Cochineal:
This insect based dye became a mainstay of natural red dyeing as soon as it was discovered and imported into Europe. It is faster than most of the other insect reds, and of a darker and richer tone. Cochineal leans toward the purple side of the red scale, though if combined with madder it can lean more toward a true red. Due to its price, many may flinch at dyeing with Cochineal. However, due to its fastness it may well be worth an experiment or six.
Madder:
The roots of the madder, wild madder, cleavers, and other bedstraw plants, all produce an orangey red that is colorfast and beautiful. Madder is a mainstay in, the originally hard to come by and naturally dyed color, Turkish red, or true red. Often combined with insect based reds, madder on its own will give a strong and lasting orangey-red tone to most protein fibers. One benefit of madder, over cochineal, is that you can grow and harvest your own. The one challenge with that is that a plant will not have roots fit for harvesting for 3 years after the bed is planted.
These seven natural dyes are all well worth trying, at least once, to see their beautiful colors. Due to their fastness, they are well worth using in any project that will be exposed to a lot of sunlight, or that will need to be able to withstand active use and washing.
Back To You:
Have you ever used any of these 7 colorfast natural dyes? If so, which are your favorites? Do you have a dye that you have found is wash-fast and lightfast that could be added to this list?