Almost any natural dye book will tell you what the common natural dye plants are, what colors you can get from them, and the method to employ to do so. However, no matter how well-tested a method you use, it will nearly always need to be adapted to your water and fiber to get the best results. While working with known natural dyes is fun and consistently rewarding, some of the most rewarding natural dyes are those that are unknown, or at least unknown to you.
Traveling to a different place, finding a plant you do not recognize, or having someone who turns exotic woods as a friend, can all be ways to find new and exciting natural dye sources. Woods, indeed, are some of the most interesting natural dyes, while lichens and fungi come in as a close second for unusual colors.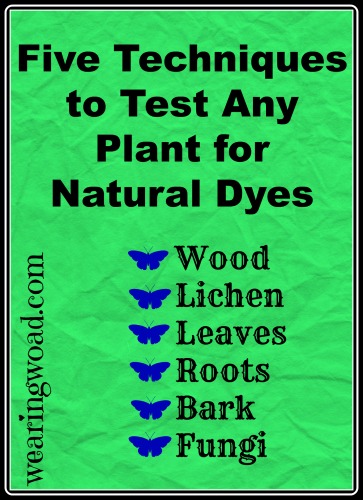 Natural Dye Water Extraction
This is the most common way to test plants for natural dye potential. A water extraction is also the simplest of extraction methods and requires only a non-reactive pot, water, and the plant material in question. A water extraction can be used for woods, however the dyestuff in many woods is only soluble in alcohol, so just because a wood does not color water, does not mean that it may not have a dyestuff within it.
To do a water extraction test, take a small quantity of fresh dyestuff and simmer in enough water to cover for an hour. If the water shows color, place a small alum mordanted skein of wool in the vat and let cool overnight. Most plants will produce some type of yellow dye, and a simple light fastness test will show wether it the dye is one you want to continue to use, or not.
The amount of dyestuff for this type of test should be small, perhaps only a cup or two in a liter of water. The wool skein should be a maximum of fifty grams, or several small five to ten gram skeins. Remember to keep samples of any new plant you are testing so you can repeat colors, or experiment more with the plants that give the best colors.
Natural Dye Ammonia Extraction
An ammonia extraction is most commonly used on fungi and lichen. The lichen that produces red dye can only be extracted in an ammonia solution. While other lichens will produce a small amount of color in water, their main color is usually only found in through the use of ammonia.
Place dry lichen pieces in a small amount of ammonia, contained in a non-reactive container. Pint or half-pint glass canning jars work well for this. You should label the lid with the date, and the type of lichen that you placed into the jar.
You can keep the jar on a window ledge, preferably somewhere out of the reach of pets and children, but where you can see it. Shake the jar frequently, it can take a few weeks for lichen colors to make their appearance in the liquid.
Once you know which lichens have dye potential, you can focus on harvesting and dyeing with them specifically. When using lichens, or fungi, for natural dyeing remember to only take 10%, or less, of any given growth. The only exception to this rule is if you are taking it from a location where the lichens would soon be destroyed anyway. Examples of such locations include burn piles, fences that will soon be replaced or repainted, barn siding that will soon be repainted, and ground area that will soon be dug up or tilled.
Natural Dye Alcohol Extraction
An alcohol extraction is most commonly used with wood shavings. If you do not turn exotic woods yourself, get a wood turning friend to save their shavings for you and to keep species separate. Woods like Purple Heart, Black Walnut, and Ebony may well have a wealth of natural dye potential hidden inside them.
To do an alcohol extraction, place a table spoon or so of wood shavings into a glass non-reactive container (with lid). Add enough alcohol, either vodka or a wood based non-consumable alcohol, to cover the shavings. Leave in the jar for a week or more, shaking daily, until you see whether there is color in the alcohol.
An alcohol based extraction can be used the same as an ammonia based dye extraction.
Wood dyes can also be found through boiling. However, some of the wood-based natural dyes are not soluble in water, but are soluble in alcohol.
Water Fermentation
More specifically a natural dye preparation technique, rather than a color test technique, water fermentation improves the color of several natural dyes. Walnut is an easy example. When you harvest your walnut hulls, put them in a large plastic pail. I have found that an oversized ice cream pail works well, and cover in water. Let the hulls soak/ferment in the pail, outdoors, through the winter and till spring.
In the spring, take your ferment and strain out the dye material. Since you have not added anything other than water and plant matter, you can toss the plant matter into your compost. Dye with the liquid as for a normal natural dye water extraction.
With walnut, at least, the winter fermenting gives a much darker tone than a straight water extraction. Indigo and woad are two other plants where, historically, if they had not fermented them they would have had no blue.
Direct Contact Dyeing
This technique is a combination of a dye test and dye technique that uses fermenting as well as soaking and heat to affix the dye. You can test any plant matter or part using direct contact dyeing, and while the colors meld to some extent, you can easily tell if a plant is worth further investigation later on.
I enjoy this technique due to its ease of application, and also to the unexpected results that always turn up. If you would like to know more about direct contact dyeing, you can find my direct contact dyeing tutorial here.
Back to You:
What of these natural-dye-potential tests have you used? What non-book natural dyes have you discovered or used? Is there a test that you would recommend to determine dye potential?
Leave a comment! I love hearing from you.