The North American world is surfeited with an abundance of clothing, shoes, and everything necessary for clothing oneself. However, even this abundance would only last a few years if the clothing production grid went down. With looters, fires, and other happenings, even a closed store would likely run out within two years, if not sooner. If you have prepped for two years, and your clothing starts wearing out, what will you do?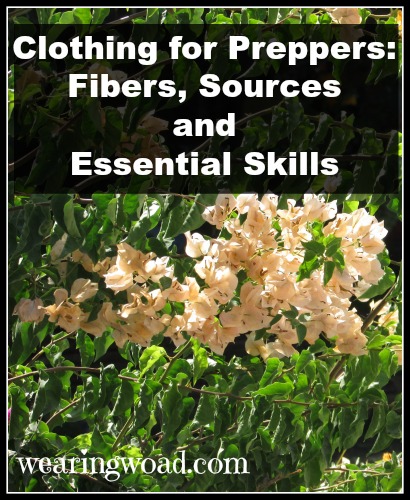 Five Essential Clothing Skills:
Skills never wear out, cannot be stolen, and will always be applicable. In an emergency situation there are a few skills that may be more useful than others.
Spinning is the first skill. Using spinning you can turn any fiber into yarn, rope, or cordage. It doesn't matter if you are using nettle, linen, wool, or picked apart yarn bits. Anything that is long enough to hold the twist and bind together can be spun. Spinning can be done with the simplest of tools, specifically a drop spindle and a simple dog comb or brush to prepare the fibers. I've even spun on a knitting needle, with a potato for the whirl.
Sewing is the second skill. With hand sewing, all you need is a needle and thread and you can repair, replace, or create new garments as long as you have fabric and thread. The challenge with hand sewing is that it takes a long time to get anything done. However, if you can get a treadle sewing machine, or include a sewing machine and an alternative power source to run it, you would be set for sewing. This skill is the most relevant for keeping your initial clothing functioning as long as possible, making it less critical to be creating new clothes.
Knitting is the third skill. Everyone needs socks, mittens, and sweaters. Knitting needles are easy to store, small, and portable. Combine knitting needles with a drop spindle and a pair of carders and you can make anything. While some sweater type clothing can be made from weaving and felting, for warmth I prefer a cabled sweater knit out of three ply yarn (like the Newfoundland Fishermen's Sweaters). This type of sweater, at least out of wool, is warm when wet and nearly windproof. Crochet can replace knitting in some ways, though it is not as good at making socks.
Felting is the fourth skill. Using wool and felting you can make anything. Felting is a very quick way of making a sturdy and water and wind resistant fabric. Any clean wool can be used, and the basic felting techniques are super easy to master. If you are in a zone where sheep thrive, felting is an excellent skill to add to your prepping skill-set.
Weaving is the fifth skill, and the one that requires the most equipment. However, you can actually do a large amount of weaving with very little equipment, when you know the basics. Many small bags, pouches, belts, and even shoe laces can be made on simple back-strap, rigid heddle, or cardboard looms. Finger-weaving, an old First Nations technique, is also easy to master for narrow belts, laces, and other narrow and flat woven projects. Finger Weaving used to be used to make the voyageurs sashes, thick garments that acted as a sash, pouch, and lower back protection.
For skill building ideas check here:
Fibers, Supplies and Their Sources:
A quick glance at various prepping websites show a large number of articles on brand name clothing for preppers, fibers to avoid or select, and several other confusing factors. But, what these articles fail to mention, is what will happen long term.
Fiber like wool, linen, nettle, and others can be grown by you. Wool might be a bit more of a challenge, since it is grown on a four legged critter. If you want a wool supply, start early by making friends with your local sheep farmers and learning about sheep and wool processing.
Nettle and linen can be grown in your own backyard. If you've ever thought about hiding a survival garden, you may be aware that some recommend fencing your ground with stinging nettles as part of the permaculture. Stinging nettles provide fiber, so your fence could be doing double or triple duty by providing food, protection, and fiber. While linen doesn't work as a deterrent, it can still be grown in small and unobtrusive patches. Linen and nettle are skill based fibers. Most people wouldn't know the first thing about getting the fiber out of either linen or nettle.
Fabric can be sourced from many places and doesn't need to be new to be useful. Old, but not worn out, clothing is a good option for grabbing fabric. If you are a sewer or quilter, your fabric stash may well become your most valuable resource in this type of situation. Combine a fabric and thread stash with a treadle sewing machine, and you wouldn't have to worry about clothing for a good bit.
Prepping, Clothing, and Tools:
Most garment or fabric creation requires very few, and very simple tools. For knitting or crochet, a fair range of tools and needle/hook sizes can be picked up for under 5$ at any thrift shop.
Making yarn only requires clean fleece, a comb or card, and a simple spindle. A spindle can be made with a dowel, some old CDs, and a hook.
Knitting needles are just sanded dowels with points, either double pointed or with a nob or bead on the end to keep the stitches on. Crochet hooks are dowels with extra shaping.
A loom is only a sturdy rectangle with rotating top and bottom bars (make a looped warp for maximum length), with string loops attached to a stick to form the shed. For ease of weaving a wooden shuttle is helpful and a broad toothed comb to pack down the warp. Finger weaving just requires yarn, your finger, an anchor, and some practice.
Sewing is a touch more complicated, needing needles, pins, thread, and fabric as a minimum. However, excepting a treadle sewing machine, most of the tools mentioned can fit in a single shoebox. One shoebox for storage, a few new skills learned and mastered, and you could have clothing security in a long-term grid-down situation. Sound good?
Remember: After the first few months of a grid-down situation, one would expect a bit of a barter community to spring into being. Having skills and resources you can exchange, barter, or otherwise use for your, and your community's benefit, will be very helpful. A farmer may not want to give away wool, but he may well be willing to pay fleece for spun yarn. Weavers used to be paid in yarn when the family didn't have enough coin, and the weaver would then sell that yarn, or weave something for himself or to sell.
Back To You:
Whether you prep or not, which of these skills do you think would be most applicable in a long-term grid-down situation? Which of these skills would you want to add to your skill-set, or do you think would be the most valuable for long-term practice?
I enjoy hearing from you, leave a comment!